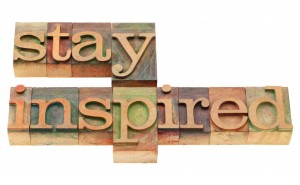 Nearly every day I get asked about good blogs, books, and resources for the sales reps on the front lines - those with quotas who have to come up with new ideas and think outside of the box for success. Reps who make dozens, if not hundreds of calls, who craft emails and need to be fired up every day.
Think outside of the box? At a recent conference, I liked Oracle Social Selling expert Jill Rowley's comment: "There is no box"
It makes me realize that creativity is one of the best traits in selling you can have.
But where to get ideas?
How can I find inspiration?
Top Sales World recently published their list of the Top 50 Sales & Marketing Blogs. It is a great resource and I give the link out to reps and sales leaders all the time. This year, Top Sales World created their list based on the following criteria:
Quality of the written word, including use of grammar, punctuation and originality
Ability to educate or entertain – specifically, giving something back rather than "pitching" continually
Popularity – i.e. visitor numbers
Social media exposure – Tweets, LinkedIn/Facebook/Google+ promotion
Blog design – cosmetic appearance
Finally, regularity of posts.
Here are the Top Sales World Top 50 Blogs. We are pleased to be on it, and we encourage you to check out our colleagues - they are the best in the business.
Also check out Sales on Alltop - it offers you a very easy way to skim a variety of posts.
Top Sales World also has a monthly magazine you should subscribe to if you want ideas to grow revenues.
We also posted about Hubspot's recent list of 25 Helpful Sales Blogs here.
Let us know what you enjoy reading - what helps you sell?

Lori Richardson is recognized as one of the "Top 25 Sales Influencers for 2013" and one of "20 Women to Watch in Sales Lead Management for 2013". Lori speaks, writes, trains, and consults with inside and outbound sellers in technology and services companies. Subscribe to the award-winning blog and the "Sales Ideas In A Minute" newsletter for sales strategies, tactics, and tips in selling. Increase Opportunities. Expand Your Pipeline. Close More Deals.