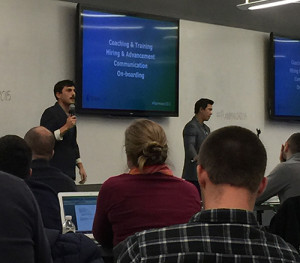 I'm in Atlanta thrilled to be at an event with a fresh perspective.
Before I say anything, monitor tweets from #Rainmaker2015 and you'll learn a lot about sales from my smart colleagues who will be presenting all day.
Salesloft, a very successful and fast-growing Atlanta startup is a company with two products and they BOTH help you sell and be more productive. So when they decided to put on their first-ever Rainmaker conference - I knew I had to be here.
If you don't know what an SDR is, it is a sales development rep - the person who finds the leads all day every day - they are the hardest working position in sales. This event is all about them - how to find them, how to nurture them, and how to grow business. These guys know about SDRs. Last year, Salesloft started the year with one and ended the year with 12. During that time, their SDRs found 3,600 prospects which turned into 550 completed demos that brought on 175 new clients.
What I most love is that all afternoon yesterday I heard from some smart, young, and enthusiastic presenters - those on the Salesloft team - about how to prospect well. There is nothing better than fresh perspective and fresh voices supporting the field you work in - no mater what it is. I will be creating another post but big shout outs to Cara Clanton, Sean Kester, and Anthony Zhang for a job well done. Their passion for what they do really showed through - which also makes a shout out to CEO Kyle Porter important as well.
If you are reading this after the event, you can still see the tweets - I encourage you to see all the facts and points that will be shared.
In the spirit of offering value, I'd love to share one of our most popular downloads from last year - the ebook with 50 Inside Sales Power Tips - to help support the year of the SDR.
What's your best tip for finding and developing leads?

Lori Richardson is recognized on Forbes as one of the "Top 30 Social Sales Influencers" worldwide. Lori speaks, writes, trains, and consults with inside sales teams in mid-sized companies. Subscribe to the award-winning blog and the "Sales Ideas In A Minute" newsletter for sales strategies, tactics, and tips in selling. Increase Opportunities. Expand Your Pipeline. Close More Deals.
email lori@scoremoresales.com | My LinkedIn Profile | twitter | Visit us on google+