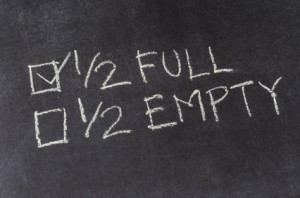 The first day of a new month in selling offers so much promise. For those on a calendar year, it is the beginning of the last month of the first quarter. Time to make things happen! You've dusted off the holidays and Winter doldrums and Spring is around the corner. Time to close some of that pipeline you have out there or crank up the efforts to further build your pipeline.
Assuming you have a great product or service to offer others that adds value and makes their world a better place, your attitude and activity will determine much of your success - more than any other thing. Attitude isn't something you can order from a SaaS vendor that resides in the cloud - it is within you. Ultimately people think of you and they think, "I like talking to Bob - he always brings me up." They might also say, "That Sally - wow, I wonder how she sells anything with the negative comments she makes about her competition."
In selling you can't afford to be down - at least not when interacting with buyers and potential customers. It doesn't mean that you should be inauthentic - because that doesn't work either. If you are having a bad day, there is no reason your buyer needs to hear much about it - they have their own issues to be thinking about. They may laugh along or listen to you talk, but in the end it could cost you because ultimately, people buy from people.
Think of yourself as a consumer. I used to go to a hair stylist who was very good, but he started telling me all his problems as he was styling my hair, and within just a few visits, it hit me that I leave that salon totally dragged down. I walked away, never to return, and they lost a good, loyal, referral-based customer. If you have read my post about the $30,000.00 Haircut, you'll know that the value of someone doing business with you is not just their business but all that they can and will refer your way. As a consumer, do you like to be the focus when you are receiving services you've paid for? Why would your buyers be any different?
More importantly, or at least AS important is what you are saying to yourself every day. How you feel about your sales position directly affects your success. This includes the belief that sales is an admirable profession and that by helping others get involved with your company's products and services you are contributing to your community and society in a positive, helpful way. If you instead think that sales is just something you're doing until the economy improves, or until you go to grad school - you won't own the feeling those of us who love the sales profession feel.
There are a number of studies on how your attitude affects your health, well-being, and success.
A study done by Harvard Business School and University of British Columbia researchers asked people about their lives, and found:
Those who say life is short and hard are more likely to expect bad things to happen to them, even though they are no more likely to have experienced these things in the past than folks who say life is long and easy. Everyone except those who said life was short and hard expected to experience more positive than negative events in the future.
How to Have a More Positive Attitude and Be More Optimistic
Practice being grateful. Think of 3 things that happened to you this week that were very good and helpful toward growing revenues.
Focus on the positives. What is working for you in selling? What strengths do you have that you can focus more on?
Find someone you can talk to who could be a mentor or coach. Sales professionals need specific skills and strategies for success.
Make sure your environment is free of negativity. If you sit by someone who is very negative find a way to tune him or her out - or earn the right to move to another location.
Solve problems instead of creating them. A problem solver is a valuable part of any team. Do this and you'll be in demand throughout your organization and it will help take your career as far as you'd like to go.
Become a student of optimism. Don't believe what I say, instead do some of your own research. Here is an article about resilience and how powerful it is in staying healthy.
So, is the glass half-empty or half-full for you today? Think about how this may affect your Q1 and full year results.
Post your comments on your attitude and how it helps or has hurt in the past, what you did, and how things work now for you.

Lori Richardson is recognized as one of the "Top 25 Sales Influencers for 2012" and one of "20 Women to Watch in Sales Lead Management". Lori speaks, writes, trains, and consults with inside and outbound sellers in technology and services companies. Subscribe to the award-winning blog and the "Sales Ideas In A Minute" newsletter for sales strategies, tactics, and tips in selling.