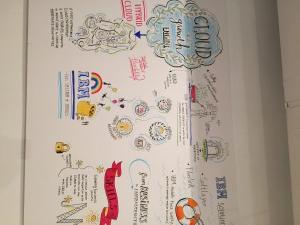 This week, I was invited to spend a day with key executives in the IBM Midmarket space to discuss the future of work, and how technology is causing us to reimagine the way we work.
First I must say that I've been attending IBM events over the years starting in the early '80s. Yes, I know that dates me a bit, and it also gives me a longer term perspective of IBM than a lot of people. I have seen great evolution over time.
In past corporate events with MOST Fortune 100 companies there is a lot of "dog and pony show" with little chance for input. The great thing about the #reimaginework session was that it was a very small group in a low-key environment with little fanfare – just everyone rolling up their sleeves and sharing ideas. I have to say that I left there inspired and I know that many others did as well.
It was refreshing to see an entirely new chapter for IBM and offer immediate feedback. I was struck by a couple of things that I saw –
IBM Verse
IBM Verse is a next-generation system that takes the current idea of email and turns it into a productivity system based on collaboration and ease of organization. I wanted David Allen (the productivity master) to be in the room to offer his viewpoint. I think it is a big winner – because it works more intuitively and can solve some of the major problems with email – such as losing an important item that needs to be followed up on.
230 people at IBM participated in "The Design Thinking" process, looking at data points to see how people really do interact in a people-focused manner to accomplish more. This project has been a $100M investment by IBM in design innovation utilizing analytics, cloud, and social together.
In sales, productivity is a HUGE issue – maybe even the #1 issue for sellers - and I am thrilled to learn more about this research and will be signing up for a beta to try this out.
Check out IBM's press release and more product details here.
Watson Analytics coming to the Masses
I have written about Watson and the analytical possibilities for mid-sized companies many times before and undeniably am a fan of seeing the "big" in "big data" brought down to "small" data to help SMBs and mid-sized sales teams (as well as other aspects of SMB companies) analyze their data and then interpret it to gain important insights.
IBM is taking action by making a Freemium version of Watson Analytics so that anyone can bring in data and gain understanding of how they could put these insights to use.
I recently wrote about 3 Ways Watson Will Solve World Business Issues.
Cloud Marches On
When it comes to cloud technology, I also was very interested hearing from people like IBM's GM of Midmarket, John Mason talk about the $1.2 billion investment to expand global cloud footprint, plus $7 billion in key cloud acquisitions including $2 billion for SoftLayer.
The tide has turned at IBM for the "S" in SMB and the "M" in midmarket – if anyone can further level the playing fields for smaller business, it is the technologists and innovators working on tools like these with big budgets. Stay tuned as we uncover more use cases and stories of real companies doing big things with these tools.

This post was written as part of the IBM for Midsize Business program, which provides midsize businesses with the tools, expertise and solutions they need to become engines of a smarter planet. I've been compensated to contribute to this program, but the opinions expressed in this post are my own and don't necessarily represent IBM's positions, strategies or opinions.

Lori Richardson is recognized on Forbes as one of the "Top 30 Social Sales Influencers" worldwide. Lori speaks, writes, trains, and consults with inside sales teams in mid-sized companies. Subscribe to the award-winning blog and the "Sales Ideas In A Minute" newsletter for sales strategies, tactics, and tips. Increase Opportunities. Expand Your Pipeline. Close More Deals.
email lori@scoremoresales.com | View My LinkedIn Profile | twitter |Visit us on google+