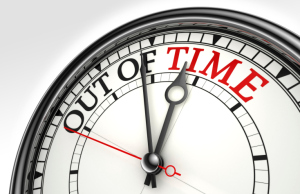 Two different sellers told me in the last week that they are not using LinkedIn as much as I had encouraged them to do because it doesn't work for them and takes too much time. Both of these individuals have been doing the same old prospecting strategies for a number of years and both really would rather not change. Change is scary. Change involves admitting that you don't have all the answers. It's easier to say why something won't work than try to see if a new thing might be a better solution. My position always gets back to this one thing -
If I can show you one more way to find buyers interested in hearing what you have to offer (assuming you can bring solutions to their challenges and improvements to their lives) - why would you not be open to that?
Here are several ways that more consistent use of LinkedIn WILL help most sellers. [disclaimer: if 100% of your buyers are not online, you're right - LinkedIn won't help you.] For the rest of us - Follow the Buyer:
The most simple strategy to finding many more "probable" buyers is to implement the idea I talked about in the last post - Follow Up Strategies to Grow Sales - on how to create a stream of more likely buyers based on when they are new. It is a very smart system to put into place, takes little time, and reaps great rewards in the form of more buyers in the roles you typically work with. You track down where your last buyer has gone off to in their next position and then back track to see who filled their position at your client company. You put a process in place, do a little research, and voila - soon you have some well-qualified potential buyers to offer insight to and learn about their upcoming projects in their new roles.
Group Insight:
Find out what groups your buyers (and prospective customers) participate in and join some of them to learn what is being talked about so that you can share insight with prospective clients. This is one way to learn how to have executive level conversations with your buyers. In addition to LinkedIn, you can also go to websites designed for your buyers, such as CIO.com or CFO.com. Regularly see what your buyers are reading about so that you can be in the same conversation. This shows them that you are a professional, and it shows them that you understand something about their industry and business. It is critical in gaining trust and solving buyer issues.
Stuck on Hold:
Do you have the wrong contact person or is your contact at the company you want to do business with giving you the run around? Did they stop talking to you? LinkedIn is a fantastic source to find alternate contacts in a prospect account. Search by company, and see who you are connected to and what role they play in the company. If they are someone in the decision process for what you represent, contact them. If they aren't but they could make a recommendation, contact them. If you are newer to your company and need to work the kinks out of your messaging, contact them even if they can't recommend you. You'll be able to ask a few questions and learn more about potential opportunities for you and for them. Once you have a new name on LinkedIn try calling the new contact or send them an email. If you have an upgraded LinkedIn account, send an InMail.
Time Saving Idea:
Parking Lot: The idea of a "parking lot" comes from the world of training. Using Evernote, Google Docs, or even a pen and paper, keep a running list of people, places, and groups you want to learn more about because you have a geographic territory or a vertical market to call on. A name comes up, and instead of jumping over to LinkedIn, just jot it down for now - then when you have a handful of names or groups to look up, invest 15-20 minutes at one time. By not bouncing back and forth and back and forth between calls, your CRM, notes, and LinkedIn, you can be 20-50% more productive, which is critical in your sales role.
So in the end, if some extra time up front yields more results sooner, is it a time waste?

Lori Richardson is recognized on Forbes as one of the "Top 30 Social Sales Influencers" worldwide. Lori speaks, writes, trains, and consults with inside sales teams in mid-sized companies. Subscribe to the award-winning blog and the "Sales Ideas In A Minute" newsletter for sales strategies, tactics, and tips in selling. Increase Opportunities. Expand Your Pipeline. Close More Deals. email lori@scoremoresales.com | My LinkedIn Profile | twitter | Visit us on google+