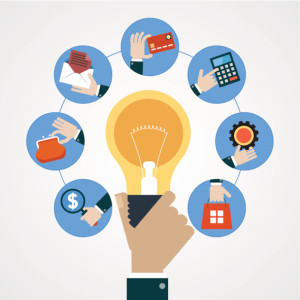 One of the very best ways to grow sales opportunities, and ultimately revenues, in your business is by having "real" ideas that solve issues for your prospective customer. (Use buyer insight to grow sales). To do this you need to really be clear on what is information and what is insight - and then which will most benefit the buyers interested in potentially working with you.
Information is everywhere and is all of the data, bells and whistles, features, and benefits about your solution. It is also ALL the conglomeration of "stuff" on the web. Everyone needs a little of this, but we usually end up getting way too much. General information bogs decisions down and complicates them. Just think of the difference between doing an online search for the words sales insights and the phrase "b2b sales insights"
sales insights - About 70,000,000 results
"b2b sales Insights" - About 201,000 results
"b2b sales insights" buyer - About 58,800 results
By putting key phrases in quotes you narrow your search from words (anything sales and anything insights) to a phrase or term. The more specific you get in your search, the more specific the result.
A web search is analogous to what happens when someone can help you with a specific business problem or business aspiration rather than a general business issue. To do this, you must first understand real customer problems and real customer aspirations rather than generalized ones.
Problem: I want a more streamlined system in my data network with better redundancies and less downtime. I want to work with vendors who are responsive and don't just make empty promises.
Aspiration: Once I solve the challenges our current system is creating, I'm going to be a hero and work toward the specialist niche I'm creating for myself.
Buyers have problems. They also have plans for success. If you can learn about both of these - what they are struggling with as well as the picture they can paint for you that shows where they want to be, you can assist them in making things happen.
Try this out as a buyer sometime. I have done this regularly and I find that it helps sales people understand what your situation is and what it is you need for a successful implementation.
How can you better help buyers with insight?
Know buyer's hot buttons - what drives your prospects crazy?
Know what project is most critical to them right now - and who all is working on it.
Help them confirm what the range of possible solutions might be. Your products and services only solve certain things. Your company is not all things to all people - so what are other options?
Now dive in with some answers for them that show you understand their market and that you understand them.
One great way to do this is to find posts and articles that describe their world and their issues. This can be their business issues or it can be about an individual's issue within their organization. Find specific helpful ideas - and show them that you understand what they are dealing with by offering ideas and strategies others in their position have used that were successful.
Remember you are the expert (and your company) for your products and services - your buyer cannot possibly learn everything about what your and your industry counterparts do.
Be the answer for them - in helpful ways with ideas, insight, solutions, and strategies. If you can convey to them how these will help them you will gain their respect and undoubtedly their business.

Lori Richardson is recognized on Forbes as one of the "Top 30 Social Sales Influencers" worldwide. Lori speaks, writes, trains, and consults with inside sales teams in mid-sized companies. Subscribe to the award-winning blog and the "Sales Ideas In A Minute" newsletter for sales strategies, tactics, and tips in selling. Increase Opportunities. Expand Your Pipeline. Close More Deals.
email lori@scoremoresales.com | My LinkedIn Profile | twitter | Visit us on google+