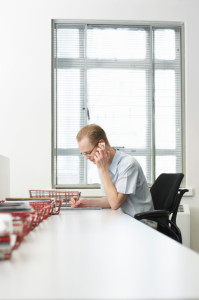 Knowing how to speak up on behalf of what your customer needs is one of the most important things you can do as a seller. You also need to learn how to do this on your own behalf. Learning to temper and time your requests is part of the art of making an impact.
If you are around other sellers on your team who complain about how things are but don't have a better, detailed strategy that would be a win for the company and clients, then you see the wrong way to speak up. This post is not about complaining - it's about building a case for what makes sense and will help others, not just yourself.
It's All About Timing
Newer sales reps get more leverage to speak up after they have consistently engaged prospective clients, booked meetings and closed business. It's just the way it is because you get people's attention with results. Until you have results, it really doesn't matter what it is you have to say. If you are new, try doing the work as requested, getting results, and THEN making suggestions or improvements. The old phrase, "Talk is cheap" rings true here.
It's All In the Delivery
When you do have ideas, word them in ways that show the win for your boss or the company as much as the win for you and / or your peers. The worst news can be packaged in a way that it is constructive and helpful rather than scathing complaints and condemnation.
Choose Your Battles
As a newer rep in sales you cannot win every debate that happens at work. Determine what is most important to you and speak up for that. I recently talked to a seller who wanted to work out of another office location that her company has because she'd save nearly two hours a day commuting. She put the request in and everyone loved the idea - but nothing happened. She waited a reasonable time, then went to her VP and re-built the case for what she wanted and why it is a win for the company. He got the wheels in motion and just days later she was in the other office.
Sales Pros Affect Change
That's what we DO. If you can't make things happen that cause a win / win (and sometimes a win / win / win) then you're not doing it right. You need to re-assess and re-learn what professional selling is all about.
When it Didn't Work for a Seller
A new sales rep got a new position at a great company but didn't end up with a helpful manager. She realized no one was making quota and her manager would not help her when she was specific about what she needed to get and close business. She waited for something to change, which it didn't do - and then after 90 days she quit because she didn't think anything would change. What a waste of time for everyone involved. The company lost money, she lost all of the investment she made into the new position, and the manager still manages. Although she wasn't closing business yet, she was putting in the hours and doing all the right things with no support from her immediate manager.
Did you know that most people leave jobs because they are unhappy with their direct supervisor?
Speak up for yourself winning at your sales position. Find allies (not complainers) who will help prove ideas that might be a bit different from how the company has done things in the past.
Find ways to win that help others win too.

Lori Richardson is recognized on Forbes as one of the "Top 30 Social Sales Influencers" worldwide. Lori speaks, writes, trains, and consults with inside sales teams in mid-sized companies. Subscribe to the award-winning blog and the "Sales Ideas In A Minute" newsletter for sales strategies, tactics, and tips in selling. Increase Opportunities. Expand Your Pipeline. Close More Deals.
email lori@scoremoresales.com | My LinkedIn Profile | twitter | Visit us on google+