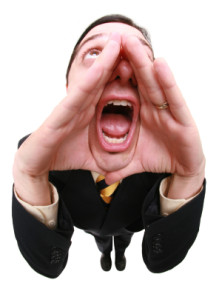 If you are in sales, you need a strong, solid foundation to flourish. In a world where you are the one bringing new and better ideas to people who are not familiar with your brand or are all set with the status quo, your mental and emotional foundation is critical.
Have you ever been to a sports event where the hometown fans "boo" one of its own players? I used to have season tickets to the local junior hockey team back in Seattle 10-12 years ago. One idiot guy who sat in our section always booed one of the players from our own team - just because the fan was an entitled jerk with one too many beers. It happened every game toward the end of one season - it was loud and clear. At the end of the season, the player quit. Years later, he is now in a sales career - having learned how to ignore the "boo's" and he has built a support system around him.
It's one thing to get "booed" at an away game - that's great. Just don't do it to the home team - they need your cheers and your support, just like sellers need a success foundation all around them.
Sales professionals need a manager who believes in them - not second guesses them.
Sales professionals can read body language from those around them. A raised eyebrow means something - head shaking means something. Negative "joking around" means something.
By the same token, a sales manager is one of the sales professional's top customers - if not THE top customer. Help your sales manager do their job by getting them what they ask for in a timely manner.
A toxic sales team environment holds the company back and as an individual contributor - you have to be able to work with those around you, even if you don't care much for them personally.
There is an interesting article about body language and the Galatea Effect - when you convey an expectation received by the other person. You know what I mean - the sales rep who emphatically says they'll be closing a deal. It is received by eye-rolls because no one thinks they will.
The bottom line on this is that when you are a human dealing with humans all day and working to earn conversations with prospective buyers, you need to feel confident, committed, and appreciated.
I was on the road last week coaching sales reps and one of the reps I talked to said to me, "C'mon, you gotta be a little crazy to do what we do all day, every day."
He's right. Selling is hard, but selling is also art and science. You can become a craftsperson in selling with the right support and skills.
Help your sellers and colleagues by giving them a little extra support today - who knows what great things might happen.
Sellers, remember that your sales leader IS your #1 customer - work with them. Solve any little irritating issues and focus on the bigger picture - working together to close "net new" sales opportunities.

Lori Richardson is recognized on Forbes as one of the "Top 30 Social Sales Influencers" worldwide. Lori speaks, writes, trains, and consults with inside sales teams in mid-sized companies. Subscribe to the award-winning blog and the "Sales Ideas In A Minute" newsletter for sales strategies, tactics, and tips in selling. Increase Opportunities. Expand Your Pipeline. Close More Deals.
email lori@scoremoresales.com | My LinkedIn Profile | twitter | Visit us on google+