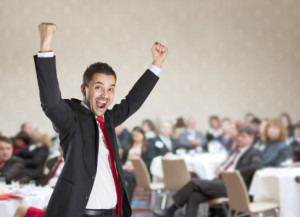 What if an acronym was the outline for all you needed to do in professional, business-to-business selling? There is one, and I was reminded of it last week at InsideSales' customer conference Accelerate '14 in lovely Park City, Utah.
In Ken Krogue's full day session on Business Development - inside sales tips, strategies, tools, and methodology, this acronym was one of the highlights of his session because it brings everything you need in sales together. Ready for it? The word is CLOSERS. Here is how it covers the gamut of selling -
Campaign - (strategy)
List / leads
Offers
Skill
Effort - (increased dialing, etc)
Reporting / results - (benchmarking)
Systems - (technology)
Campaigns are a way to break up your calling and even make it more enjoyable because you can work several different campaigns in a week and it will be a bit more interesting. Ken has identified over 27 types of inside sales campaigns. The idea is that you can try many different campaigns, or ways to reach potential buyers. Different sellers have different results with a number of them, so they are important to explore.
[Tip: throughout the day Ken reminded everyone about A/B testing. Always try something to see how it works, and you can try a second way and compare your results. This is a very effective way to improve prospecting, messaging, and web demos.]
Lists and leads, Ken says, "Leads have needs, lists have interest - and interest is the counterfeit of need." An interested person can waste hours and hours of everyone's time - including their own. Make sure to understand whether they are in a position to purchase, assuming there is enough value in it for them.
Offers are on your website and have calls to action. These might include downloading a white paper, clicking to an offer from your blog, or getting research and e-books from your site. All of these items help educate buyers at the stage that they are in - about issues they may be dealing with, and about the possible solutions - including yours.
Skill is the training piece - how you prospect, message, engage, follow-up, track and help clients buy. Basic selling skills can be taught.
Effort is where more or less dials are made, more or less conversations are had and more or less emails are crafted and sent. You can increase sales just in this one area alone - being motivated enough with great contacts to make and incentive to do so.
Reporting and results are the measuring portion of the inside sales team. How do you track what you are doing, and how can a new person learn from existing reps? To be consistent you must have good reporting that is timely so it helps sales reps as the go along, not just periodically. You can't improve what you don't measure.
Systems includes technology - the science part of the equation. There are dialing technologies, CRM technologies and thousands of sales tools to help in every aspect of the buying journey.
Which part of this does your company have down well? Which areas need improvement? Is there one area you can make a bigger impact in? Will you do it?

Lori Richardson is recognized on Forbes as one of the "Top 30 Social Sales Influencers" worldwide. Lori speaks, writes, trains, and consults with inside sales teams in mid-sized companies. Subscribe to the award-winning blog and the "Sales Ideas In A Minute" newsletter for sales strategies, tactics, and tips in selling. Increase Opportunities. Expand Your Pipeline. Close More Deals.
email lori@scoremoresales.com | My LinkedIn Profile | twitter | Visit us on google+