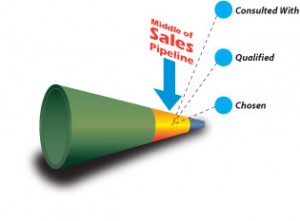 Most everyone focuses on the front of the sales pipeline, and there is much written about all of the things that happen early on. But what about once you have potential sales opportunities? How are they moved forward to closure, and what happens during that "dark phase' when your once-wonderful prospective customers are not returning your calls or e-mails?
Welcome to the middle of the pipeline, or for those of you using a funnel approach to track sales opportunities, welcome to MoFu (as coined by Hubspot, for middle-of-the-funnel). This less talked about period is where your prospects live, breathe, and sometimes hide – and during that time many opportunities disappear due to lack of nurturing from you.
We need to work on ways to accelerate the pipeline. In simple terms, get a "YES" or a "QUICK NO" rather than slow, drawn out turn-downs and shut-outs. When you end up losing an opportunity, it is often the case that you probably could have had a quicker sales cycle and moved on to better opportunities for you and your company simply by getting a "NO" quicker. Find ways to move stalled opportunities forward or move them back as a lead to nurture further.
Nurturing your leads can be time consuming and sporadic if not in a process of some sort, and if not partially automated. If your system is only automated with no human touch points, you will turn off some opportunities, particularly if they are complex sales cycles. Take a look at a great post on the "why" of nurturing leads by Ardath Albee.
This is why you must have a place to keep your leads in a system that allows you to move opportunities forward or not – depending on the situation.
The dark time in a sales opportunity can be as real as the deal is dead, or it can be stalled due to so many other reasons, including:
You did not qualify well up front – you are talking to the wrong person(s)
You did not qualify well up front – you did not involve all of the influencers
You did not qualify well up front – the opportunity is not a priority with the client
You did not clearly discuss value – they don't see what you can bring, or don't think they need it
You did discuss value – but the price to implement involves changing things – and that's time consuming
They have bigger problems since you last communicated – things like compensation or legal
They are not in the same rush that you are – it is a buying cycle, not a selling cycle
They are "just not that into you". (seriously, there are several other issues & reasons - we'll get into that at a later time)
So what can you do? For starters, don't assume. It's so easy to do, we'll be posting about this in detail. Keep an open mind and do some or all of the following:
Find another potential contact point if appropriate (if you are talking with lower-level decision makers, who else might be impacted by this project and can you engage them in a way that adds value? If nothing else, you might be able to determine if something has changed.
Speaking of adding value, how can you? Find a new way. You might be surprised. For example, you sell a software solution but you know a prospect of yours is dealing with a big compensation issue. Connect them with a comp expert, or download something you have pre-read that IS or could be of value to your prospect, and send it their way. (note to pre-read things, because just sending any white paper is not adding value. If you trust the author or skim to see if relevant, you will know this is not a blatant waste of time for your prospect to read.)
If you do not nurture the relationship with your prospect, you have very little chance of working with them. If you reach out to them through a multi-faceted strategy (e-mail, social, phone) you are more likely to reach them. Some of our prospects respond immediately via Twitter. Others need a phone call. Do you know which mode your prospects prefer?
Revisit your pipeline or funnel today – who do you already have in your sights and how can you move those opportunities forward? If they are dead, mark them so, and get them out of your daily view – they need to be nurtured less frequently. You will make room for new and better opportunities, and you'll clearly see those staring you in the face that simply need more nurturing from someone who can really add value to their business - if that is you, then move forward.




This post was written as part of the

IBM for Midsize Business

program, which provides midsize businesses with the tools, expertise and solutions they need to become engines of a smarter planet.

Lori Richardson is recognized as one of the Top 25 Sales Influencers for 2012 and speaks, writes, trains, and consults with inside and outbound sellers in technology and services companies. Subscribe to the award-winning blog and the "Sales Ideas In A Minute" newsletter for tips and strategies in selling.