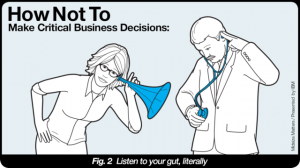 As a sales leader I used to have to hire sales people. I found out some interesting things over time and wanted to share my statistics in hopes that you who "listen to your gut only" could most likely improve results.
As a younger sales manager, I was wrong 75% of the time when hiring who I thought would be a stellar sales producer using my gut.
Over time, my stats got better – to 50%. It wasn't just mine, but my co-leaders when we made a joint decision. We were WRONG half of the time, and we were all very successful as former sales reps ourselves. We knew the industry and the job requirements, and we went with our gut
Keep assessment tools in mind when hiring – they are getting easier and are less costly with quicker results and a very high rate of accuracy.
DO use your gut when you think there is a problem or an issue with your customer or with your prospect. My stats were great in that category. If you think something is wrong, ask your customer.




This post was written as part of the

IBM for Midsize Business

program, which provides midsize businesses with the tools, expertise and solutions they need to become engines of a smarter planet. I've been compensated to contribute to this program, but the opinions expressed in this post are my own and don't necessarily represent IBM's positions, strategies or opinions.

Lori Richardson is recognized as one of the "Top 25 Sales Influencers for 2013" and one of "20 Women to Watch in Sales Lead Management for 2013". Lori speaks, writes, trains, and consults with inside and outbound sellers in technology and services companies. Subscribe to the award-winning blog and the "Sales Ideas In A Minute" newsletter for sales strategies, tactics, and tips. Increase Opportunities. Expand Your Pipeline. Close More Deals.