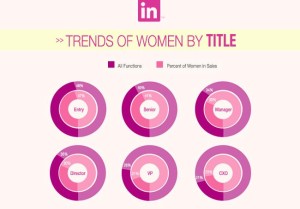 This week, LinkedIn shared some statistics in its study "Women In Sales". It's pretty simple for them to do accurate research – they have all the data of 275 million (or more) business professionals in their system. They searched for female vs. male names and parsed the data to see how many LinkedIn members were female and in sales vs. male and in sales by industry. The data is compelling to show that very few women make it to executive leadership in sales, and that there are fewer women in sales than there are in general business positions.
Those of us in and around hundreds of sales teams know that it is not just about more women applying for sales positions – it is about the culture of the company, how interviewing is done, what job descriptions look like, and whether first line sales managers are trained in gender neutral communication, among other things.
Koka Sexton of LinkedIn posted his thoughts about helping to push this conversation further. I talked with him recently at a conference and was pleased to hear his interest in growing the dialogue. Read his post here
The need for more women in sales positions in the technology sector is something near and dear to my heart, and to my colleagues in the sales improvement field like Jill Konrath and Trish Bertuzzi. Jill started asking sales conference leaders over 10 years ago to have more women sales experts on the main stage – it often fell on deaf ears and the conversation itself got misunderstood. I have found the same in my efforts to better understand why a company would have so few women sales professionals and encourage them to try some new strategies for a different result.
Jill Konrath took matters into her own hands and created a conference for sales women with all women sales experts as presenters back in 2007. Although the conference is not still in existence, the group of women sales experts still meet annually – we are called Sales Shebang® and I'm honored to be leading this group now.
Over at The Bridge Group, Inc, colleague Trish Bertuzzi wrote about Hiring More Women in Technology Sales with some great insight, such as:
On the topic of assertiveness –
Assertiveness has been found to help men and hurt women. So if an interviewer finds a female candidate 'overconfident' or 'too aggressive,' ask them to reflect 'If this candidate were a man, would I feel the same way?
Having men discuss this topic and not just women makes it a higher level issue, and I'm appreciative to Koka for his efforts. I'm also pleased when men leading sales conferences engage to find more potential women to speak at conferences. Kudos to Jorge Soto of Sales4Startups, Fred Diamond of the IES&BD and others who are actively asking around for names of strong female speakers and presenters on sales topics – there are many out there!
A future post will contain an interview with some of the top women in sales at IBM. If this helps to inspire women deciding on whether to get into sales or not, it will be a worthy discussion to have. If it encourages one woman to go for a sales leadership position – all the better!

This post was written as part of the IBM for Midsize Business program, which provides midsize businesses with the tools, expertise and solutions they need to become engines of a smarter planet. I've been compensated to contribute to this program, but the opinions expressed in this post are my own and don't necessarily represent IBM's positions, strategies or opinions.

Lori Richardson is recognized on Forbes as one of the "Top 30 Social Sales Influencers" worldwide. Lori speaks, writes, trains, and consults with inside sales teams in mid-sized companies. Subscribe to the award-winning blog and the "Sales Ideas In A Minute" newsletter for sales strategies, tactics, and tips. Increase Opportunities. Expand Your Pipeline. Close More Deals.
email lori@scoremoresales.com | View My LinkedIn Profile | twitter |Visit us on google+
image courtesy of LinkedIn