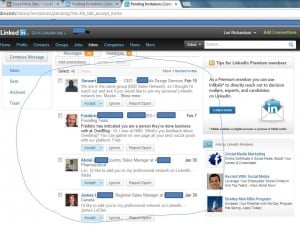 If you are active on LinkedIn and using it to grow your business, you probably get these requests all the time. I have written about them before - the generic or "slightly modified" request to connect on LinkedIn.
We teach sales professionals about the "Big 10" items you need to pay attention to and do correctly for success on growing your visibility and your revenues using LinkedIn as a tool. This one - the "I'm so lazy / uninformed / busy that I can't take time to personalize a request" is at the top of our Big 10 list.
Because I get so many bad connection requests, it seemed time for a primer in adding value and in personalizing messages to others.
Here are some real-life examples (that's an image of my LinkedIn account) of invites and why I would, as a busy business person, want to connect with you or not want to connect with you. My hope is that you see clearly why being vague, impersonal or one-sided does not work with LinkedIn requests, or in sales as a whole.
Stewart reaches out to connect and tells me that we share a group, so he thought he'd reach out and connect. I'm in many groups, Stewart. I value my connections on LinkedIn and I don't understand what value it brings me for us to directly connect. NOT.
Frederic (who I do not know) has indicated that he and I have done business together at a company I've not heard of. NOT.
Abdul has sent me a generic message that he sends to everyone: "I'd like to add you to my professional network on LinkedIn." NOT.
James sent the same generic message. Not adding him either. At least he didn't say that he is a friend, because that doesn't work either unless we really ARE friends.
Let's review - Just because YOU think it is good for you to connect to someone, THEY need to see value in it as well. The only exceptions to this are a) someone who is an "open" networker and connects to everyone or b) someone desperate to build their network and add any professional they can find. I don't fit into either category nor do most of your future professional connections.
Before I decide NOT to connect I will click on the profile to look for a few quick things -
I do give people the benefit of the doubt that they may have forgotten to customize their message or it may have automatically happened when they were prompted by LinkedIn to connect with me - it happens.
1) Do we share any common connections? If you know a lot of people, you might forget someone's name so double-check for that.
2) Look to see the location of the person. If I am new to an area and they are local to me, there may be other reasons we should connect. On the other hand, if they are far away and I don't do work virtually, it is another reason NOT to connect.
3) Look at their company and title. Since I work with sales leaders and CEOs, I'll scan for that, and then look to see more about their company. If they are a company of one, or a startup, I may pass on the connection, but not necessarily. It depends on the other factors above.
Does this make sense? Next we'll show actual language that DOES work to connect with others on Linkedin and elsewhere. In the meantime, it would be great to hear about your LinkedIn connection stories - good and bad.
If you send generic requests, please comment and let us know if you are too busy, or lazy, or you just didn't know it is important to personalize?

Lori Richardson is recognized as one of the "Top 25 Sales Influencers for 2012" and one of "20 Women to Watch in Sales Lead Management". Lori speaks, writes, trains, and consults with inside and outbound sellers in technology and services companies. Subscribe to the award-winning blog and the "Sales Ideas In A Minute" newsletter for sales strategies, tactics, and tips in selling.