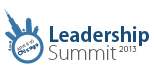 It was a full day at Day 1 of the AA-ISP (American Association of Inside Sales Professionals) 5th Annual Leadership Summit in Chicago. I'm here with 450 others who live in the world of professional sales, and I feel like a kid in a candy store. Day 1 was full of takeaways that I'd like to share quickly before Day 2 begins, so here is the run down. You'll find excitement in my words, because to be around hundreds of like-minded people who could talk about sales leadership, tips, tools, efficiency, and share research findings - well - it is THE place I love to be.
Bob Perkins, AA-ISP Founder, and Larry Reeves, COO kicked off the 2 day event with the conference theme, Success Comes from the Inside. [look inward for change]. Bob shared research from their 2013 Inside Sales study. The study showed that the two biggest challenges for those leading inside sales teams are finding and hiring enough good inside sales reps, and then giving them a good on-boarding process so that they are productive and happy in the position.
Jack Mitchell who is the Chairman and CEO of upscale retailer, Mitchells, and author of the book, "Hug Your Customers" talked about, well, hugging, and really embracing customers and the people who work with and for you. He challenged everyone to learn more about 150 of the closest people to you. Jack reinforced writing a hand-written note, something I'm thrilled people are talking about these days.
Next were 5 very strong presentations from the main stage sharing statistics, facts, strategies and tactics attendees could take home with them. I felt the value of the conference just from these next sessions:
Tom Stanfill (CEO of Aslan) discussed ways to remove barriers to coaching sales reps, coach better, and simple tools to help you recoup 50 hours a month. (that caught my attention). [Spend LESS time with those who have low desire to change]
How do you know if a rep has a desire to change? Tom gave an analogy of someone who says they want to learn how to improve their golf game. Suggest they meet you at the driving range, and if they show up, they want to improve. [Desire determines development]
Kraig Kleeman (author, speaker, and strategist at KraigKleeman) had strained vocal chords so it was a bit squeaky of a presentation, yet his content was music to my ears:
Words Matter! [very few people understand the absolute importance of words]. Amen, brother.
In a sales career, you must become a master of the power of words. [I tell people to become a student of communications, so to me, this is a top issue and worthy of the main stage]. Also:
Do NOT be polite at the expense of being direct. COMPETENCE trumps politeness!
Lead with fact-based research.
Sales training is NOT a line item. [could not agree more - it has to be worked into the whole ecosystem, or institutionalized]
Ken Krogue (co-founder and President of InsideSales.com) had hours of research to talk about with 3 research studies done, but highlighted some of the best points - we were also reminded of his definition of what Inside Sales is:
Inside Sales = Professional Sales Done Remotely
Get the Inside Sales research and follow Ken's posts on Forbes. I can't summarize succinctly enough here about the value of what he shared other than:
At 5 voice mail messages, you become a pest. [per the latest research]
It takes 10.8 calls and emails on average to close a B2B deal.
Also, InsideSales research indicated that the most effective combination of strategies is your website, email, tradeshow, and an inside sales team making calls.
Ralph Barsi (Inside Sales Mgr., InsideView) shared how good values in your company attract good people.
You have to coach to maintain bench strength.
How attractive of a company are you to a potential new employee?
If you are an individual contributor looking for a position, how attractive are you (professionally speaking).
Note to employers: 70% of working employees are passively looking for jobs.
Steve Richard (Co-founder, Vorsight) talked more about sales coaching - in particular the who, why, and when.
He reminded us that 39% of Millennial sales reps want better mentoring and coaching.
Without on-the-job reinforcement, sales reps lose 87% of training within one month.
With a combination of training and coaching, results improve four-fold.
To create a culture of coaching, everyone coaches.
These general sessions were just our morning.
After lunch I facilitated a breakout session on how B2C sales teams can build customer loyalty. Our attendees were fun, interesting, and everyone left with new ideas. We had 3 small groups answering questions about how their inside sales team is building loyalty, getting add-on sales, and growing revenues. More on that in a future post.
Three highlights from the afternoon were:
Trish Bertuzzi (Founder, The Bridge Group) and Michael McCarroll (Sr VP Sales, Lattice Engines) presented on the Big Data time machine, and how to incorporate past, present, and future data into gaining more insight for better buyer conversations.
Ralf VonSosen (Head of Marketing, Sales Solutions, LinkedIn) talked about making social selling real, and shared actual stories from LinkedIn reps (un-named, of course) who have made blatant social selling mistakes to show that they are human, and also, you need to train people on basic principles. [Don't keep cold calling someone that Ralf has a direct LinkedIn connection to, for example - instead, use him as a way to connect.]
We ended the day with a talk from three-time Olympian, Devon Harris - one of the original team members of the Jamaican Bobsled Team. I liked his talk about persistence and determination.
More to follow - people are tweeting at #InsideSalesLS13 if you'd like to see more nuggets of information on Twitter.

Lori Richardson is recognized as one of the "Top 25 Sales Influencers for 2012" and one of "20 Women to Watch in Sales Lead Management" for 2012 and 2013. Lori speaks, writes, trains, and consults with inside and outbound sellers in technology and services companies. Subscribe to the award-winning blog and the "Sales Ideas In A Minute" newsletter for sales strategies, tactics, and tips in selling.