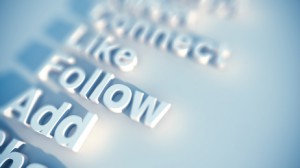 There are three major reasons you need to have regular time blocked off in your calendar for being social online.
In past posts I've talked about how your social footprint is your 365 day per year, 24x7 online trade show where your buyers and potential referral partners can learn about you on their own schedule.
Specifically you can gain in three huge ways by making time each week in your schedule for this:
Gain Visibility
If you haven't already had amazing things happen by being online, you will see how you can be blown away by the prospects, former customers, and soon-to-be-strategic partners just waiting for you to define yourself, your market niche, and the value you add to doing business with others. First and foremost, work to build a robust profile in the right places where your target market and partners go. Then work to add content so that you are regularly updating ideas to share with this market. Over time (and it DOES take a while, just like a real-life trade show booth) you will begin to attract interesting people and interesting opportunities for business growth. It doesn't happen without the up front effort of building out your social profile in all the right places.
Gain Insight
By being social in communities where your customers, prospects, and business referral partners are, you can listen to what is being said about the tough issues in that market sector, those industries, or geographic locations. An example would be a sales rep in telecommunications understanding where their telecom and data prospects (and customers) spend time online - so they can see and hear them talking about what's new with employees bringing devices from home and how that might factor into data issues at their clients' corporate offices. Also, they could see if there might be a way to leverage ideas to differentiate when talking with IT and infrastructure leaders at prospect companies. They won't have much to say if they do not see what is being discussed, and it takes blocked out, regular time chunks to do this well.
Gain Connections
If you make regular time in your calendar to do some searching for those referral partners who are adjacent or within your niche and can refer multiple people your way over time, you could grow sales tenfold. I say this because most sellers do not have an actual referral partner growth strategy. The ones who do, and who regularly reach out to strategic partners, get remembered and referrals happen regularly.
Not During Prime Selling Time
Remember that positioning yourself online, finding strategic partners, and listening for insight into your niche should not compete with calling or connecting time. Do both. Yes, I know how busy you are - I was a seller with a quota and territory for many years. It may not be easy, but it is do-able. And you must do it to get ahead.
What one thing can you put into place today which will help you meet more strategic referral partners online?
How can you find time to post new ideas to your LinkedIn profile each week to help differentiate yourself and your company?
Is there a good time at the end of the day or before you get to your office to put regular social time into your calendar?
What is stopping you?

Lori Richardson is recognized as one of the "Top 25 Sales Influencers for 2012" and one of "20 Women to Watch in Sales Lead Management for 2012 and 2013". Lori speaks, writes, trains, and consults with inside and outbound sellers in technology and services companies. Subscribe to the award-winning blog and the "Sales Ideas In A Minute" newsletter for sales strategies, tactics, and tips in selling. Increase Opportunities. Expand Your Pipeline. Close More Deals.