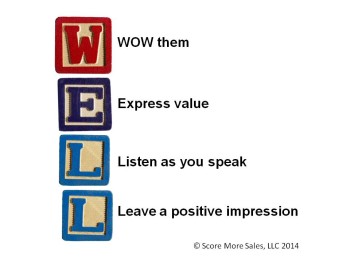 As a remote professional seller you use the phone continuously throughout the day. If you are not using the phone at least half of the time you are reaching out to buyers, then I hope you are using video conversations to a great extent. These two strategies – video-to-video or telephone allow for real connection.
While being in front of someone is, in fact, the BEST way to communicate, a good two-way video conversation is the next best thing. These are not universally used yet, but more innovative sales teams are using Skype video calls, Google Hangouts, and other means to facilitate seeing each person on the call. If you are not able to make 2-way video conversations happen, then the telephone or digital audio call is the next best thing.
If you are one of those sellers hiding behind email – where email is your #1 strategy and you use it more than 80% of the time, we need to talk – via a video connection or by phone.
Why? There are several reasons why e-mail alone is not the best strategy for you in connecting with potential buyers and following up with clients. E-mail definitely needs to be part of your communication strategy but not exclusively. Complex topics or services don't do well as email dialogue. Difficult or more sensitive topics do not work well via email. It is extremely difficult to tell tone by email, and tonality is one fantastic way to build rapport, so by not having it as part of a conversation you're taking a big risk of being misunderstood.
A friend of mine stopped doing business with a vendor because of a poorly written email which she reacted to. Another friend stopped working with a business partner because of a misunderstanding through email. Worse than that, I know of a client that lost a $400K deal because of several hurried email messages and lack of planning to be able to have more verbal conversations with a prospective customer.
In order to be successful on video or with the telephone you need to understand the basics of presenting as well as having concise, buyer-focused messaging.
I use an acronym to help sellers remember the important points of speaking:
W- you have to wow your prospective buyer with something different, new, educational or insightful
E- you need to express the value to them. What's in it for them?
L- work to listen for what they are responding with, and for what they are not saying
L- always leave a positive impression with buyers, clients, and referrers.
Do you have trouble speaking clearly and concisely? Consider joining a Toastmasters group. I've written about Toastmasters many times before and belonged for a number of years. Check out a local group - for a very small dollar investment you will gain both communication and leadership skills in this organization.
Know of a great online course about communications? Let us know.

Lori Richardson is recognized on Forbes as one of the "Top 30 Social Sales Influencers" worldwide. Lori speaks, writes, trains, and consults with inside sales teams in mid-sized companies. Subscribe to the award-winning blog and the "Sales Ideas In A Minute" newsletter for sales strategies, tactics, and tips in selling. Increase Opportunities. Expand Your Pipeline. Close More Deals.
email lori@scoremoresales.com | My LinkedIn Profile | twitter | Visit us on google+