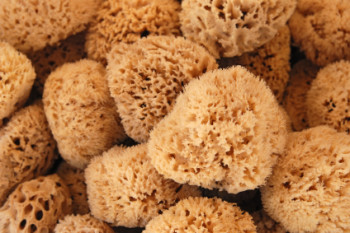 It is challenging and stressful to get a new sales position - even if you already work for the company in another position, or if you already have been in sales elsewhere and consider yourself a pretty good seller. Once the excitement wears down a bit, there are real issues about ramp up and metrics and productivity that a sales position can't hide like other positions in a company.
The reason it can be hard is because you want to learn only the things that are important to you becoming a competent sales rep in the new position you're at. You want to get rid of anything in your brain that will not help you, and there is no shortage of information coming at you now, right?
If you consider yourself a sponge in the first year at your new position, you will have the opportunity to learn much more than someone who comes in or transfers over thinking they know it all.
We see this in training sessions quite often - people come in with their arms crossed tight. That body language is telling - it says - "I'm closed to what you are talking about". One of my top goals when working with sellers is to see their arms uncrossed eventually. I have shown them something they can believe and know that I'm there to help them grow revenues.
Back to sponges -
Be sure to not be a dirty old kitchen sponge - those sponges absorb liquid and are used for cleaning.
Be a natural sponge, like the one pictured. Here is what is so great about them -
The aquatic invertebrate called the sponge draws in a current of water to extract nutrients and oxygen.
That's the sponge to be when you are ramping up your knowledge - you're drawing in many ideas and skills then extracting what will sustain your success in selling. You can do this in four main ways -
Watch what the most successful sellers in your company do. Mega author and success guru Anthony Robbins has said this for years. Find people who are the best at what they do and use them as examples.
Learn what others in your industry are doing - this includes competitors as well as industry experts.
Study the components of salespersonship. Become an expert in communication, human psychology, change, and motivation.
Read anything you can get your hands on that could positively support your role.
This means taking an optimistic approach with a realistic mindset. The best sellers are grounded in both being upbeat and forward thinking but also not so optimistic that they miss seeing real challenges to overcome.

Lori Richardson is recognized as one of the "Top 25 Sales Influencers for 2013" and one of "20 Women to Watch in Sales Lead Management for 2013". Lori speaks, writes, trains, and consults with inside and outbound sellers in technology and services companies. Subscribe to the award-winning blog and the "Sales Ideas In A Minute" newsletter for sales strategies, tactics, and tips in selling. Increase Opportunities. Expand Your Pipeline. Close More Deals.
email lori@scoremoresales.com | View My LinkedIn