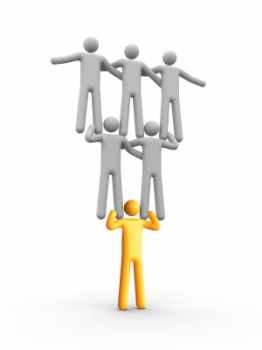 As a seller it is pretty safe to say that you are under-utilizing your skills, strengths and talents for utmost success. I say that because of meeting rep after rep who is not focusing on their most important goal or task at any given time.
To be more effective and productive you need to understand your strengths. What are you good at?
Since we are in a society who always wants people to perform better, our reviews focus much less on what we are doing right and more on what we are doing wrong. Here's a message - focus first on your strengths.
To the top producer who is not good at paperwork - get someone to help you with it! Your best and highest use of your time is NOT to be doing that.
To the seller who can talk well with c-level prospective buyers - work your schedule to DO THAT - and get support for the other things. That is your greatest gift and the best use of your time.
Sure there are updates to be made, research to be done, and administrivia to take care of. I'm simply saying this -
Identify what you are strongest at -
talking to decision makers?
connecting to strategic referrers who can help you with many more opportunities than a single one?
reigniting and moving forward stalled opportunities?
getting ON the phones and talking to multiple potential buyers and potential coaches in prospect companies?
Next, find ways to increase the time you spend doing those things by just 5%, then 10%.
Learn creative ways to off-source and out-source the activities you are NOT strong at - such as sharing a resource who can help with researching prospects or updating your CRM system or creating lists or reports that have to be done.
You'd be surprised at how many others who ARE strong at the things that are not your strengths would be happy and able to help you.
Marcus Buckingham, author of Now, Discover Your Strengths describes a strength as something that you have consistent, near perfect performance at.
So the seller on your team who is the BEST closer you've ever seen should be doing that primarily.
Sales teams that perform the best tend to have specialists at every part of the sales pipeline.
How can you focus on your strengths to grow your pipeline and ultimately your sales?

Lori Richardson is recognized as one of the "Top 25 Sales Influencers for 2013" and one of "20 Women to Watch in Sales Lead Management for 2013". Lori speaks, writes, trains, and consults with inside and outbound sellers in technology and services companies. Subscribe to the award-winning blog and the "Sales Ideas In A Minute" newsletter for sales strategies, tactics, and tips in selling. Increase Opportunities. Expand Your Pipeline. Close More Deals.
email lori@scoremoresales.com | View My LinkedIn Profile