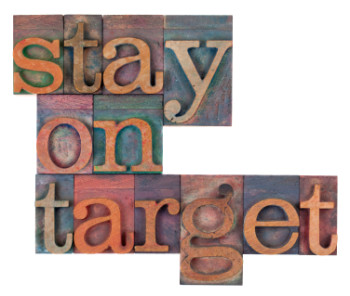 Are you in sales and get distracted easily?
Among entrepreneurs, we call it the "bright shiny object syndrome".
For people with ADD or ADHD it can be an extremely difficult situation.
Most salespeople have some degree of "easily distracted syndrome" or as I like to call it, EDS.
It is particularly rampant before holidays, in-between holidays, and after holidays as well as before warm weather, during warm weather, and after warm weather. From a calendar view, it can destroy days of your selling time.
It creeps in when a sales rep goes to look up one thing online, sees something else, goes there, sees something else, and eventually you don't get done what you originally set out to do. I believe some people waste from 30 minutes to hours a week just from this one activity alone.
What to do if this is describing you?
Decide on some quick wins during a distracting time, then take action.
For example, Sarah is planning a wedding and trying to also focus on hitting her quota for the year in the next four weeks. The wedding is much more interesting than selling right now.
Joe has a difficult family situation over the holidays and seems to have been on endless calls and texts with family members about it.
For both of these sales reps, they need to immediately set goals for what they can accomplish toward sales. They need some realistic activity goals and a couple of real stretch goals to work toward attaining.
If you do create goals, create ones that can be measured, such as:
Reach 3 c-level executives from potential prospect companies this week
Have 12 conversations at any level to learn the answers to questions to determine if we may have opportunities at the prospect company
Learn about the political landscape at ____ (a prospect company of yours)
Create an actual "to do" list and put these action items on it.
Check them off when accomplished.
If you do this, then at the end of the day, and the end of the week, you can evaluate how focused you are at working on growing sales at your company. You may have metrics being generated within your CRM tool, such as in Salesforce.com. You may have some sort of gamification at your company which shows a leaderboard on the wall so that you can see where you stand for some of the things being measured.
I always liked focusing on goals and reaching them because it gives a sales rep who may have not sold something today the recognition of setting 3 great meetings for later this week. It keeps you going, and encourages you to do more.
If you only have a giant revenue goal it is difficult to stay motivated.
Have some smaller, reachable goals for this week and through the end of the year.
Stay tuned for more ideas on what can be accomplished by the end of the year.
Here are 3 other blog posts that will help you keep your focus:
How do you keep from being distracted?

Lori Richardson is recognized as one of the "Top 25 Sales Influencers for 2013" and one of "20 Women to Watch in Sales Lead Management for 2013". Lori speaks, writes, trains, and consults with inside and outbound sellers in technology and services companies. Subscribe to the award-winning blog and the "Sales Ideas In A Minute" newsletter for sales strategies, tactics, and tips in selling. Increase Opportunities. Expand Your Pipeline. Close More Deals.
email lori@scoremoresales.com | View My LinkedIn Profile