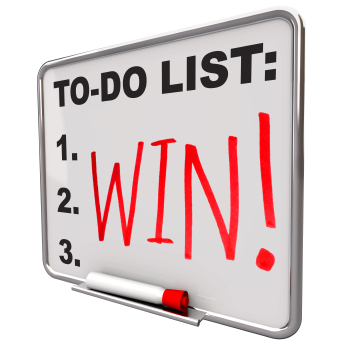 Winning is fun and it gives you energy. If you have any doubt about that, look at how people feel the morning after their local sports team has won - especially in playoff competition.
Many professional sellers like to win. Who else could deal with rejection much of the day or even the week?
If you are in a sales role and do not experience regular wins of some type, you probably won't feel very motivated or inspired.
Get inspired with Quick Wins
Quick Wins are small, simple goals you can set up for yourself or have your leadership team help you with that are easy to accomplish and give you that great sense of victory so that you can be energized enough to make it to the bigger wins. The point isn't to set up something so simple anyone could do it, but rather to give you attainable, quicker goals in addition to any longer term goals you have.
I awarded myself a Kindle for getting a simple project done that I had procrastinated on for way too long. It really was a simple project once I focused on it. Although I have a number of big huge audacious goals, this was something I could do quickly and once focused, completed. I "won" something for my efforts.
You don't need a tangible item to win - I also like winning recognition, don't you?
Why not create a different sales activity goal each week for yourself or with your team? Some ideas to consider:
The first person to set a demo (or appointment) today gets to the top of the sales activities winner list.
The first person to set 5 appointments this week.....
The people who have 5 conversations this week with potential referrers this week......
The person with the greatest number of actual conversations with buyers or recommenders this week....
You see where I'm going with this.
In selling you need to be focused on doing activities that lead to sales. When it is time to review your success, your company looks at what you have accomplished, and sales numbers - what business you have closed - is important. Having good conversations with target buyers is one of the best and most productive things you can do. If you have products and services to help them, and can explain the value of working with you and your company - two-way, high value conversations with them is critical for you to do.
So what are YOUR quick wins this week?
Are they individual goals or can you do them with your team?
What happens when you achieve your quick win goals?

Lori Richardson is recognized as one of the "Top 25 Sales Influencers for 2013" and one of "20 Women to Watch in Sales Lead Management for 2013". Lori speaks, writes, trains, and consults with inside and outbound sellers in technology and services companies. Subscribe to the award-winning blog and the "Sales Ideas In A Minute" newsletter for sales strategies, tactics, and tips in selling. Increase Opportunities. Expand Your Pipeline. Close More Deals. email Lori here lori@scoremoresales.com