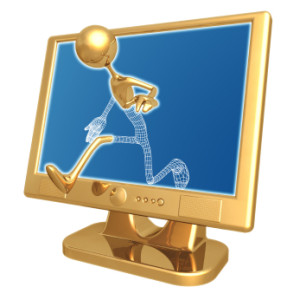 Some of the newest people to become inside sales reps are those who have left the field for now - perhaps forever. Many outside sales positions with fat travel accounts and face-to-face client meetings are slowly being switched over to inside positions. Thousands of outside rep jobs have even been eliminated.
This is because companies are working to be more competitive or even just stay in the game, in some cases. Margins are tighter and budgets have shrunk.
So do you think you can take an on-the-road sales rep and expect him or her to hop into their office chair and replicate their outside sales success?
It doesn't always work. The first thing is that they need to understand what they have going for them as a virtual rep, and what they don't have going for them anymore.
Being a remote professional (virtual) rep means that you have no body language to read because your prospective client is talking to you over the phone.
What you have learned by working with prospective buyers in person is that you can read their body language and mannerisms to determine cues and when you're really good at this, it definitely helps you better communicate with your buyer. Now that you are in a remote office, you can transfer the same idea into more focused listening. Learn to adjust to hearing changes in buyers' tone, the rate of what they are saying, and actual word choices. It is simple, just not always easy, and definitely takes time to hone and be proficient at it.
To become proficient, practice with people you know first. Do some role-playing covering some of the objections that there might be with your services, and have them also work in a rushed conversation, a strained one, and one where you and the prospective buyer just did not make a connection.
Then work through ideas for how to resolve these conversations into better ones with solid next actions. That way you have some sense of a direction and a sense of control of the conversation which could turn into a sales opportunity for your pipeline.
It can take a bit of time to adjust to being totally a remote sales professional - but I have seen astounding successes with the transition. I've also seen some miserable failures because of the differences in another thing - accountability.
When you are on your own on the road you have a sense of freedom that you may not feel for a while in an inside sales position - the feeling of being over managed or micro-managed comes up quite often when someone moves from being outside to now fully inside.
If you can make that transition, however - you now have the best of both worlds. You have a great sales career and no travel (or very little in some cases). You have a Monday through Friday position and a lot less variables up in the air. Talking through the differences can be helpful - you might want a coach to help with that.

Lori Richardson is recognized as one of the "Top 25 Sales Influencers for 2013" and one of "20 Women to Watch in Sales Lead Management for 2013". Lori speaks, writes, trains, and consults with inside and outbound sellers in technology and services companies. Subscribe to the award-winning blog and the "Sales Ideas In A Minute" newsletter for sales strategies, tactics, and tips in selling. Increase Opportunities. Expand Your Pipeline. Close More Deals.