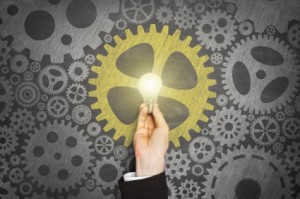 Do you have a prospective customer relationship that went dark on you?
Did you have a good conversation, perhaps did a demo, they responded favorably and then nothing else?
It is frustrating when this happens because it could indicate one of a number of things:
They liked what you talked about, but are back in the throes of their position with no time for you.

They responded favorably because it is the polite thing to do, but didn't really see value.
They have other priorities ahead of you closing a deal.
Unless something else happened, like a co-worker is out and they are taking on more work, or they took off on vacation, chances are they did not see ENOUGH VALUE to think about what you proposed.
So work to re-engage. Do this not by saying, "Did you get my last email?"
Do not do it by calling to say you are just "checking in" (please never say that, OK?)
Do so by adding value with content - insight which could help your buyer. It can be an article, blog post or white paper that ties in with the challenge they are facing. A simple e-mail could say:
John,
I have not heard back from you and know how busy you must be with the end of the quarter happening.
When I saw this post about how global companies can reduce expenses through a few smart ideas, I thought of you - especially the part about considering an outsourced solution for that. [send the link to the article or blog post as a hyperlink so that there are no attachments - you are more likely to get the email through successfully]
I'll try you again in a week, or feel free to do a quick reply to let me know if this is still the priority you had thought it was.
Thanks,
Lori
-----------------------------------
According to Cliff Pollan, CEO of Visible Gains, buyers are demanding sellers bring more value to the table. Sellers need to think of ways to add helpful content to the process. Content can be:
Industry reports on trends and new developments
customer success stories
ROI Calculators
implementation guides
analyst reports
training materials
webinar recordings
eBooks
blog posts
videos
slide decks
images
Are you creating value for your buyers, or are you just re-hashing the same old messaging?
Work this week to find one or two new pieces of insight you can share with your more probable prospective buyers. Then share it, and see what the results are. You should find that they either were not as interested as you may have thought, or they will appreciate you furthering the conversation. Either way, it will be a good activity because if you are not working with as qualified an opportunity as you think, you can stop bugging these folks and instead put them into a nurturing campaign. If they DO appreciate the insight, you'll move forward on this opportunity.

Lori Richardson is recognized as one of the "Top 25 Sales Influencers for 2013" and one of "20 Women to Watch in Sales Lead Management for 2013". Lori speaks, writes, trains, and consults with inside and outbound sellers in technology and services companies. Subscribe to the award-winning blog and the "Sales Ideas In A Minute" newsletter for sales strategies, tactics, and tips in selling. Increase Opportunities. Expand Your Pipeline. Close More Deals.