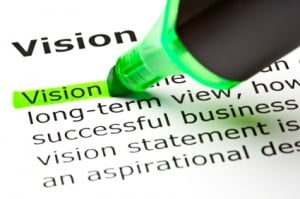 The idea that you must be a visionary to succeed in an inside sales position may seem daunting to some and a challenge to others. It is true - being in a position to help listen to, influence, and support buyers making the best decisions they can make while growing your company's revenues takes a visionary stance.
Not every need by the buying public will be well satisfied through your products and services. Any short-sighted thinker would miss that and work to sell all they could sell, regardless of the fit. In other words, not everyone is your customer.
In prospecting, you need vision to determine who to contact at each company as well. From a 30,000 foot view, who at that company would understand the value you and your company are offering and would be involved in the sales opportunity? This is also where vision comes in handy, because many of us have spent tens if not hundreds of hours with the wrong people who have no say in a purchase of your products and services at their company.
Sometimes we spend too much time with the person who can say no, but is not authorized to say yes to us moving a sales opportunity forward.
Do you see how vision does fit in this picture now?
It seems to me, though, that the biggest value of being visionary in selling comes down to two other things -
1) The vision to "see" your own great, unlimited potential
2) The vision to solve business issues
We've run into amazing sales professionals who had a weak direct manager. These sellers were either doing some of the wrong things or were just bogged down by frustration for their own professional growth. When you can see some idea of what your potential can be - you can see that in sales it is practically limitless.
Some sales professionals have no formal onboarding program and no formal guidelines, systems, or processes to follow. Somehow they need the vision to determine what they need in place to succeed, and then find a way to make that happen at the company they are at - or they should move where they will be better supported.
In "seeing" and proposing ideas to help solve a business issue for your buyers, it takes vision and creativity. What if you could forget what was ordinary and expected. What if a shift could happen and you could solve an issue no one else in your company could solve for a potential customer of yours?
You can be visionary in prospecting as well. Stop doing what everyone else does and somehow stand out in the crowd -
with your messaging

with your background
with your impeccable follow-up
It is all about changing things up and, what one of my old sales managers used to tell ME:
If you can stand out, and stand up for the great value you offer with your company's services, in addition to your own service to your customers, and you can get their attention - sometimes knocking them out of the trance their daily tasks take them - then you can gain a differentiating factor to do business.
When you DON'T do that, you are like every other nickel and dime seller leaving poor voice mail messages and sending long emails with little value in them. You are wasting others' time and effort. You are also wasting your own.
Think of yourself as a visionary in selling - if you need help, find a very successful mentor and do some of the things they do, because as Anthony Robbins says, "success leaves clues."
How will you be visionary today?
What different way can you solve one of your prospect's issues today?
Can you knock them off of their homeostasis and get their positive attention?

Lori Richardson is recognized as one of the "Top 25 Sales Influencers for 2012" and one of "20 Women to Watch in Sales Lead Management". Lori speaks, writes, trains, and consults with inside and outbound sellers in technology and services companies. Subscribe to the award-winning blog and the "Sales Ideas In A Minute" newsletter for sales strategies, tactics, and tips in selling.