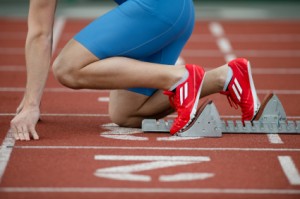 It helps to have a competitive spirit if you have chosen sales as your profession. As a competitive person I am biased, but I'd venture to say that it is a requirement as a top seller. There are three reasons why enjoying a little competition can be very healthy for your career:
You compete against yourself and your goals
You compete to win sales opportunities
You compete in some environments against your peers
Competing against yourself and the goals that you have set is such a wonderful habit to get into. Like a track star or even a runner who runs for enjoyment, you can up your distances or improve your times. This is the healthiest competition on Earth - because it almost always improves you (assuming you don't go overboard and do too much).
You can't grow without stretching your limits, and by declaring what you want to accomplish and then exceeding it, you've won. Do this every day or every week, and you have created a winning pattern that will help you through the rest of your life.
In working with new sales reps I suggest that much of their learning and development happen during "non-selling" hours. This means that professional development takes place late in the day, early AM and on weekends. Like a professional athlete practicing before the actual competition, sellers need to invest hours and hours of development time.
Another way that you compete is in working to bring all of your sales opportunities to closure - as WINS. Sometimes you are competing against your company's industry counterparts, but most often you are competing against other initiatives within your buyer's company. Staying top of mind and moving that opportunity forward can cause you to win out over other projects and against the idea of doing nothing.
When I was a sales rep I loved to be ranked in the top of the leaderboard. I liked seeing my name listed in the top 20% for two reasons:
I was competitive and loved the recognition

I was in a male-dominated technology company which made winning more rewarding for me. It was a way for a then young single mom to get the same commission as my male colleagues who often complained about partying too hard over the weekends
These days, competing against others is not a big deal to me, but then again, I don't have a big leaderboard with lots of other names in my office as I used to. Competing against my own goals is very important, and helping others to learn how to meet and exceed their goals is too.
Maybe the whole idea of competing should be looked at in terms of collaborating and creating. As you get more creative, you open the possibilities up for bigger sales opportunities with companies you've researched and selected to work with rather than proposals someone wants you to respond to. You collaborate with partners to make a new services or product offering that was not created before, allowing for a bigger win for all involved.
I'll still look at my targets and goals so that I can hit them and in some cases exceed them. It gives me a fun aspect of my day, week, month, and quarter - especially in choosing rewards for accomplishments.
How about you? Do you compete with yourself?
What rewards do you put in place when you hit a personal or professional goal?
Is there a way you can add a fun goal or two to your selling day?
Share in the comments how you compete, and how it works for you.

Lori Richardson is recognized as one of the "Top 25 Sales Influencers for 2012" and one of "20 Women to Watch in Sales Lead Management". Lori speaks, writes, trains, and consults with inside and outbound sellers in technology and services companies. Subscribe to the award-winning blog and the "Sales Ideas In A Minute" newsletter for sales strategies, tactics, and tips in selling.