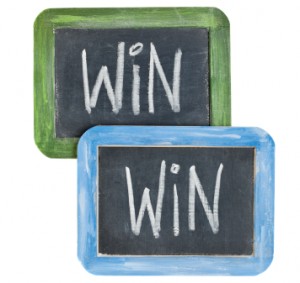 When you work as a sales professional you are representing your company, its products, and services to the many potential buyers that you come across. You also represent the buyer to your company. The best sellers I've seen over many years are ones who can see both sides of an issue, and with empathy can help craft a buying opportunity that causes a win for both sides - your company and your buyer's.
Think of it as representing yourself - and build your brand, as you talk with dozens if not hundreds of people over the course of your week. What do you stand for?
One of the best places to start in developing your own personal brand is to be known as someone who helps all sides win. There is no downside to seeking value for all parties involved.
Value is what you need to add to gain the attention of your buyers, and by delivering valuable insights to your buyers is how they will likely become a customer.
Sometimes a glitch in our company's products or services will cause a potential customer to not purchase. This is when we go to leadership with an idea or suggestion on how to solve that issue and ultimately create that win-win. It doesn't mean that your company should make changes at any time just because a prospective customer wants them to. It has to make sense - hence the win/win opportunity.
In a competitive society we are used to hearing about who WON, not what was accomplished in a manner that all parties won. Just turn on the TV in North America for the latest reality show where someone says, "You're Fired" or "You're not the Biggest Loser." It is one person's loss and others gains.
Dr. Stephen Covey wrote in his 7 Habits of Highly Effective People about this. Habit 4: Think Win-Win. Check out the book, as it is a great read for anyone in sales, and think about this habit where one possesses three character traits to be most successful:
Integrity: sticking with your true feelings, values, and commitments
Maturity: expressing your ideas and feelings with courage and consideration for the ideas and feelings of others
Abundance Mentality: believing there is plenty for everyone
Throughout a sales career, you may run into direct leadership (sales manager) who is not interested in a win for your customer, just a win for the company ("have you closed that deal YET?"). It is important to stand your ground if you believe you don't have a win for both parties. Your reputation is at stake, in addition to a happy customer who may or may not recommend you and your company in the future.
If everyone involved does not profit in some manner, it is not a good sales opportunity. People around you may differ on the amount of "profit" that your prospect - your future customer, or your company will be receiving, so it is important to be as clear as possible in outlining the benefits to all parties.
Ultimately when one side does not see the same value that you are conveying, a deal most likely will not happen.
Be understanding of the full opportunity at hand.
Articulate the benefits of your company working to help with this opportunity clearly. If you are not successful at first, try again, possibly in another manner (example: go from a written explanation of the value to a visual one)
Don't rest until you have a good win for both parties - your company AND your client. If you do this, you will gain a reputation as a value-focused person helping everyone win.
Do you have a good win-win sales story to share? Post it as a comment and you may be chosen as a winner of this week's coffee card winner! We value your thoughts and love to hear real-life successes as well as obstacles. Thanks in advance for sharing yours.

Lori Richardson is recognized as one of the "Top 25 Sales Influencers for 2012" and one of "20 Women to Watch in Sales Lead Management". Lori speaks, writes, trains, and consults with inside and outbound sellers in technology and services companies. Subscribe to the award-winning blog and the "Sales Ideas In A Minute" newsletter for sales strategies, tactics, and tips in selling.