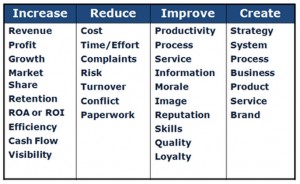 Sales pro, when you are a consumer, do you make quick decisions after being very clear of the pros and cons of the purchase you are about to make? Whether you do your research online or not, don't you decide quicker when the value (or lack of value) is clear?
This is a KEY point for new sellers. For some reason, we tend to assume that others understand how very valuable our company, its products, and its services are. We ASSUME everyone might know this, and they do not.
This weekend I had an absolutely fantastic experience with a mobile carrier upgrading to iPhone 5. This mobile carrier has been my mobile carrier for more than 15 years. I don't like going into their retail stores because it's usually too crowded and the sales reps do such transactional deals that it isn't much fun, either. It seems like I always get a brand new person to help me which can make me impatient.
This time I had a wonderful experience with an employee who has been there almost 4 years. He knows his stuff - except I still left disappointed because he assumed I'd know something I did not.
I had no idea that when we upgraded that this big name mobile carrier now is able to take old iPhones back for a credit. What? That meant that for the past few weeks (months, really) I was thinking $199 x 2 = $398 I SHOULD have been thinking $199 - $130 = $69 x 2 = $138. In this example it's just $260.00 but it symbolizes something that happens all the time in B2B selling. To upgrade 2 phones to the latest technology it was a $138 proposition, plus a hassle dealing with my "user retainable" old phone - could we even sell the old ones to anyone? And with what hassle? The reason I delayed going in was because I kept thinking, "$198 x 2 = $398 - seems like a lot just for a better camera."
What are you not clear about when you offer products and services to potential buyers? My sales guy assumed that I knew about the trade in amount - actually I was very surprised since last time around, I found some company online and did a mail-order thing to return my last old iPhone. It took weeks and I had no idea if this was a fly-by-night company so never factored the credit of the old into the cost of the new.
Let me repeat what I'm saying - it's not just the difference in price, but the ease of use and peace of mind he could have reminded me about. If I don't have to go online and find that company that gave me a few bucks for the old iPhones, he is saving me some time - valuable time - and the peace of mind that comes with working with a major brand such as the company I have my phone and service with now.
I walked out praising the customer service but bummed about how this "benefit" was just thrown in at the end. Many buyers won't hang in there with you that long to figure it out like I did.
Translate this to your world. What do you assume that your prospects know? How can you clarify that?
One tip is to find people close to you in business who will listen to your voice mail message or read your e-mail message and offer you feedback on whether they see value in your messaging. If you don't have someone close to you to help with this, hire a coach.

Lori Richardson is recognized as one of the "Top 25 Sales Influencers for 2012" and one of "20 Women to Watch in Sales Lead Management". Lori speaks, writes, trains, and consults with inside and outbound sellers in technology and services companies. Subscribe to the award-winning blog and the "Sales Ideas In A Minute" newsletter for sales strategies, tactics, and tips in selling.