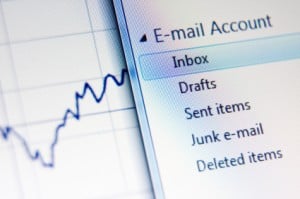 It is always good to get positive feedback when sales reps implement a suggestion or two that I have for being more effective with potential buyers and with prospecting strategies.
Dave is a veteran sales rep who was open to a tweak on his e-mail messaging. I love working with professional sellers because they are so willing to try a new spin on something they have been doing for years. I'll let Dave tell it in his own words - he shared this with me last week:
While working on my prospecting today, I decided to take advantage of a training perk my company offers and signed up for a 30 minute 1 on 1 with our sales coach, Lori Richardson.

Considering myself a pretty polished sales professional, I thought it would be worthwhile to exchange ideas with Lori and see if I could tweak some of my intro emails. I had been getting some pretty good results, receiving responses on about 1 out of 10 intro emails. 10% response isn't bad…….

I had sent my templates to Lori prior to our discussion and awaited my feedback. We talked back and forth about certain verbiage, much of it surrounding our individual styles. I have always felt that if you can walk away from a training session or seminar with one concept or technique to help improve your skills, it was a worthwhile expenditure of your time.

Lori gave me a great suggestion. After I expressed my concern over the length of my emails, Lori pointed out that today's buyers are typically getting the first view of my emails on a mobile device. In order for me to gauge the effectiveness and impression my emails were making on my prospects, she suggested I send them to myself and see what the message looks like on my own mobile device.

I followed her advice, sent myself the message, and was I surprised! While I thought my messages may have been a little long, when I saw them on my mobile device, I almost deleted it myself it was so long. I immediately began revising the messages and by day's end I had crafted a new, condensed message, with far less substance about my own company, and left more anticipation about my company's "Story" that I couldn't wait to share.

I sent out about 15 of the new version this afternoon and the results were wonderful. I received almost instant replies on 6 of the 15. A response rate of 40%, compared to the 10% I was getting with the longer message.

My next 2 days are already booked with intro calls with qualified prospects.

If you want to improve your prospecting results, try this simple exercise and send yourself your message and review it on your mobile device. You might be surprised what you find……

If your company offers a similar benefit and make a sales coach available, use it. No matter how good you think you are in sales, you can always learn something new. I did. You will too.

Lori Richardson is a professional sales coach and the President of Score More Sales. She can be reached at lori@scoremoresales.com
Thanks, Dave! It is very rewarding to see someone immediately get a breakthrough compared to the results they had. This was just ONE tweak - shortening messages (and making sure they add value, are about the other person, and are interesting or curious).
What ONE THING can you do to improve your success rate?
When will you try it out?
Let us know what you try and how it works for you - we'll share it with the world!

Lori Richardson is recognized as one of the "Top 25 Sales Influencers for 2013" and one of "20 Women to Watch in Sales Lead Management for 2013". Lori speaks, writes, trains, and consults with inside and outbound sellers in technology and services companies. Subscribe to the award-winning blog and the "Sales Ideas In A Minute" newsletter for sales strategies, tactics, and tips in selling. Increase Opportunities. Expand Your Pipeline. Close More Deals.