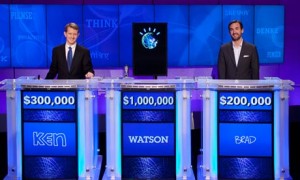 Stop the presses! I couldn't believe my eyes when I read Bob Prince Alo's insightful account of what Watson, IBM's supercomputer (and media darling) is up to in putting this mega circuitry to good use – especially in the medical field and in business. All the invaluable uses for Watson are believable, but then I saw it - IBM Watson now smarter, too?
Was I the only one to think that Watson was smart enough after the Jeopardy broadcasts?
When I was at the Smarter Commerce Global Summit in Nashville this year, I wrote about the news that Watson would be starting to use AI expertise to help in customer service applications. So many routine situations happen where a smart system like Watson can assist in the rigors of customer service – handling routine inquiries and helping with similar resolutions to issues like clockwork.
I just didn't think Watson could get any smarter – but now that I think about it, it makes total sense. He's a supercomputer, not a person – sometimes hard to separate since we can sometimes think of computers at people – don't believe me? See the photo below. Remember R2-D2?
Supercomputers can be programmed with more knowledge. If you are a sales or marketing leader in a midmarket business, how can you program your sales professionals, customer service team, and management to evolve as business does?
We'll be looking into several ways in upcoming posts about midsize company evolution. For starters:
How do you get trained in your company – in a methodical way, or as you fly by the seat of your pants?
Training with reinforcement, such as follow-up coaching, yields more revenue to your company in the form of better trained sellers, more client retention, and longer employee tenure. Studies vary with increases in success with coaching to be up to an 88% increase in revenues.
Quota Attainment is Declining
Even with billions of dollars being spent on training, the fact remains that hitting quota, depending on whose study you look at, is not a growing statistic universally.
Too many companies are not implementing a mindful approach to sales on-boarding and a complete, ongoing sales training program consistently and with full support and actions from the top. Whether you have all inside sales team members, or a mix of outside reps and inside reps, a good on-boarding program can reduce sales rep ramp-up time by 3-6 months. Think of the dollar cost and lost opportunities using a conventional, slow approach to ramp-up.
When was the last time your CEO or VP Sales sat in a sales training session or jumped on a coaching call? As long as sellers think that their only focus is to find and close business, with no development time to learn and improve, quota attainment will not grow.
Individuals also need to have the mind of a learner. This means that when you are exposed to something new in your position, you find ways to gain more insight and master it without needing your boss or team to ask you to.
Do you take initative to learn or wait for others to lead the way?
If you could "program" anyone you work with, what position would it be and what new skills or traits would they get?
Read more about Watson and the IBM Watson Engagement Advisor.




This post was written as part of the

IBM for Midsize Business

program, which provides midsize businesses with the tools, expertise and solutions they need to become engines of a smarter planet. I've been compensated to contribute to this program, but the opinions expressed in this post are my own and don't necessarily represent IBM's positions, strategies or opinions.

Lori Richardson is recognized as one of the "Top 25 Sales Influencers for 2013" and one of "20 Women to Watch in Sales Lead Management for 2013". Lori speaks, writes, trains, and consults with inside and outbound sellers in technology and services companies. Subscribe to the award-winning blog and the "Sales Ideas In A Minute" newsletter for sales strategies, tactics, and tips. Increase Opportunities. Expand Your Pipeline. Close More Deals.