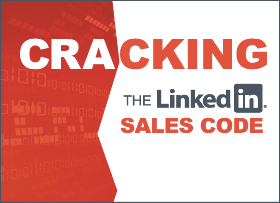 Sales and marketing experts Jill Konrath and Ardath Albee just announced a new e-book, Cracking the LinkedIn Sales Code which will help you better understand how professional B-2-B sellers are using LinkedIn to grow visibility, gain connections and ultimately grow revenues.
We love to see the results published, because it is consistent with what we have been working with sales teams on for months. Every sales team that puts some time into a combination of three things - their profile (improving and maximizing), their value (endorsements and recommendations) and their connections are gaining access to the executives they are trying to reach. Many have closed new business as a direct result of using LinkedIn as a serious tool. They are what Konrath and Albee call, "Power Users"
The e-book is a must read for sales leaders, company execs and sales reps everywhere on the detailed analysis of the findings from over 3,000 sellers to see what the top sales people do in gaining business. Findings include:
LinkedIn contributes to opportunity creation - according to over 44% of respondents
Prospect research is the most frequent LinkedIn activity
Top sellers use more of LinkedIn's capabilities
Top sellers pay attention to their professional presence
What also does not surprise me is that knowledge of LinkedIn's capabilities is limited, and the biggest challenge as stated in the book. That's because LinkedIn does not offer much help in maximizing the powers of LinkedIn and good, helpful strategies are scattered and hard to pull together in one place. Some people have tried LinkedIn with little success so they wrote it off and gave up. We suspect, and the book verifies that it very well could be a messaging issue. What do you say once you connect with your target audience?
More survey results:
The "Top Sellers" who are using LinkedIn to grow business are spending an average of 6 or more hours per week on it. They have upgraded to a paid version of LinkedIn and they rate their profile as well done. These users feel that LinkedIn is an essential business tool.
Here at Score More Sales we also find that our most successful clients have upgraded to have access to more insight and to use tools like InMail - LinkedIn's own mail system which is more effective for a reply than a standard email is.
More than 80% of the Top Sellers surveyed in the book have created and use highly targeted prospect lists. This one activity can grow business like no other. If you have not experimented with the prospect list capabilities this is an area we would really recommend.
Of the Top Sellers, more than 75% are in 11 or more groups on LinkedIn, according to the survey. The benefits to being in the right groups are huge, with the biggest one being that you gain insight into where buyers are and what they are talking about.
After you read Konrath and Albee's e-book, check out our ongoing series of LinkedIn tips and contact us to help you become a master of this tool. Specifically check out these:
How are you using LinkedIn? Post a comment and share if it has been effective for you - your comment helps others who stop by here.

Lori Richardson is recognized as one of the "Top 25 Sales Influencers for 2012" and one of "20 Women to Watch in Sales Lead Management". Lori speaks, writes, trains, and consults with inside and outbound sellers in technology and services companies. Subscribe to the award-winning blog and the "Sales Ideas In A Minute" newsletter for sales strategies, tactics, and tips in selling.