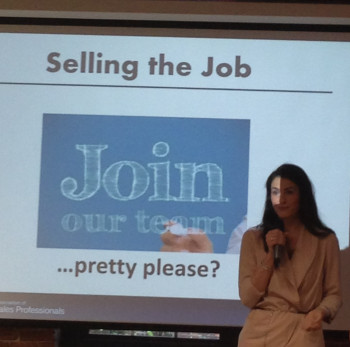 Looking for great sales talent? Working to keep the great talent you have put together? It is easier said than done. A panel of sales hiring and retention experts spoke yesterday at the AA-ISP Boston Chapter event. (If you are not aware, the AA-ISP stands for American Association of Inside Sales Professionals). The panel had great content and I think it exceeded everyone's expectations. On the panel were leaders who know their stuff when it comes to finding great sales candidates and how their organizations work to keep talent:
Liz Cain, Director, WW Business Development, NetSuite
Devon McDonald, Director Sales & Marketing Support, OpenView Venture Partners
Natasha Sekkat, Global Director, Inside Sales Centers of Excellence, EMC
Moderator was Trish Bertuzzi of The Bridge Group, and Chapter Co-President.
Each presenter had fantastic content - and the session broke out into several parts -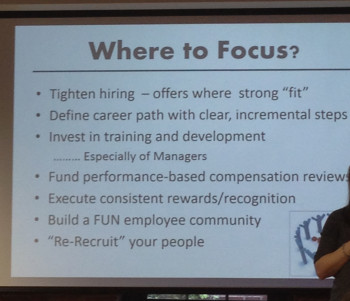 Liz talked about the "hiring" piece. It was interesting to hear all the ways they reach out to gain visibility for candidates to find them as they hire recent college graduates for their BDR positions.
My favorite part from Liz was her slide that shared how EVERY interaction from the company to a candidate counts. Even someone you don't hire should leave with a positive feeling from all those who they interacted with. This was never my experience in the corporate interviewing process so glad to hear someone sharing that.
Devon discussed "selling the best candidates on you" - how the best sales candidates have many options so your organization needs to do a very good job of telling potential new sales hires why they should come work for you. She offered 10 points on how to do this, and ultimately how to make the candidate feel important and valued. Her final tip was to have the Sales VP deliver the offer rather than a hiring manager or someone in HR.
Natasha focused her talk on retention. She discussed the "old school" ideas as well as newer thoughts on what sales team members really want - beyond pay. Gen Y workers want feedback, and training, and a career path. She referenced Dan Pink who talks about how people want mastery - so can you help them become really great at something? People also want purpose - how can they contribute to something big at your company?
Download the presentation CLICK HERE
How do you find the right sales candidates and then keep them? Post your ideas - we love to share them, as this is a tough part of building a strong sales team.

Lori Richardson is recognized as one of the "Top 25 Sales Influencers for 2013" and one of "20 Women to Watch in Sales Lead Management for 2013". Lori speaks, writes, trains, and consults with inside and outbound sellers in technology and services companies. Subscribe to the award-winning blog and the "Sales Ideas In A Minute" newsletter for sales strategies, tactics, and tips in selling. Increase Opportunities. Expand Your Pipeline. Close More Deals.
email lori@scoremoresales.com | My LinkedIn Profile | twitter | Visit us on google+