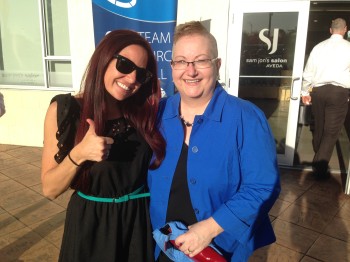 I posted last week how I would be shaving my head to help fight cancer alongside one of my clients, Granite Telecommunications. The event happened yesterday - and the results are in. Before I go back to normal sales business, I just wanted to update everyone - due to such tremendous sharing about this story. (See Part 1 of this story here)
Granite as a company raised over $2.1 million dollars for cancer research yesterday due to all of the people who decided to participate. The donation was made on a "per head" basis, then became a "if we get 400 people signed up, the donation goes over $2M." They did.
Watch the video here from the Boston office where the company is based here.
I was traveling to their Florida office anyway, so I joined in with the Florida sales reps - 20 of them - to rock my new "fauxhawk". Maybe it was because it was 80 degrees yesterday that it felt totally right.
If you or anyone else you know might be interested in donating a hat and shipping it my way, I'll wear it, take a picture of it, link to your company / website, and then donate it to the Program for Young Women with Breast Cancer at Dana Farber Cancer Center. If it is not washable, we'll give it to our local women's shelter. I'm looking for warm stylish hats for now, and more Spring-type hats for April into May.
Special thanks to Jonathan Farrington of Top Sales World who shared the story in the U.K. and around the world yesterday. Sign up for Top Sales World - and look for their monthly sales magazine- it is a great and helpful read each month.
One more thing - if you feel down in any way or depressed, do something to help others. It will instantly snap you out of your issues and it feels really great to help a cause.

Lori Richardson is recognized as one of the "Top 25 Sales Influencers for 2013" and one of "20 Women to Watch in Sales Lead Management for 2013". Lori speaks, writes, trains, and consults with inside and outbound sellers in technology and services companies. Subscribe to the award-winning blog and the "Sales Ideas In A Minute" newsletter for sales strategies, tactics, and tips in selling. Increase Opportunities. Expand Your Pipeline. Close More Deals.
email lori@scoremoresales.com | My LinkedIn Profile | twitter | Visit us on google+