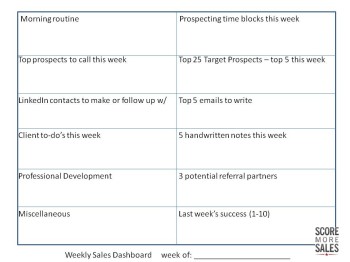 Heading into a new year, most every seller wants to be more organized than they were previously - it is one of the top issues that always comes up when we poll sellers about what one issue in selling they'd like to improve upon.
What if you had a sales dashboard?
Some of you do - if you work for a company that has created a custom dashboard in your CRM system or other app.
If you are not one of those sellers, and would like a very simple way to get your week off to a great start, consider downloading our free Weekly Sales Dashboard - Generic version free download here. We customize these for clients based on what is important to the flow of their process, their sales methodology, and specific tools they use.
The Weekly Sales Dashboard is an overview document - it gives you a single visual for all that you are doing. It can help you in 12 ways - here is the quick overview, and you can hire us to help you implement it to create an ROI like you wouldn't believe. It is sales methodology agnostic, meaning that we are not pushing any one sales training program when we offer a tool like this - it simply allows you to print out a form you can immediately use to help organize your thoughts and make every sales minute count. We like those kinds of tools, don't you?
Morning routine - this is the place to jot down the 3-5 things that you'll do all week to stay on track as soon as you start at your desk.
Top prospects to call this week - you probably have a massive Excel spreadsheet, or CRM system - but who specifically do you want to make sure you reach this week? If you can't tag that in your CRM system, use the Dashboard for that.
LinkedIn contacts to make or follow-up with - Easily jot down names as you are going about your calls here, then later you can look them up to connect or to get more insight on them. It keeps you moving on the calls when you can research multiple names at one time.
Client to-do's this week - most sellers have existing clients - jot down the handful you need to talk with this week and why. You won't forget them this way.
Professional Development - what book are you reading to expand your selling world? What videos or blogs? Jot them down.
Prospecting Time Blocks this week - write down specifically WHEN you will be making outbound calls in time blocks
Top 25 Target Prospects - typically sellers have a massive list of prospects - but do you have a short list of companies you'd really like to get into? We consider this a target list, and it could be just 5 companies of 25 - but jot down 2 or 3 for this week.
Top 5 emails to write - quick, short note for any very important quote or note you need to get out this week.
5 handwritten notes this week - do 3 if you can't find time to do 5, but for every great conversation with a buyer, or for the top 3 outstanding conversations, draft a 3 sentence note and put it in the mail, along with your business card. It's appreciative, not pushy.
3 potential referral partners - if you can get connected to more people with large communities of your probable prospective customers, you can leverage these relationships by helping them and keeping in touch with them. You'll stay on their minds this way too. Who are they? Reach out to several each week. You may end up with 50 of these key strategic contacts.
Last week's success - Rate how successful you feel you were last week, on a scale of 1-10, with 1 being very poor and 10 being exceptional. We help sales teams create this scale based on a number of criteria - you can do whatever you like, as long as it is consistently used to measure - such as factoring in how many actual conversations with actual potential buyers, etc.
Miscellaneous - You may have a category specific to your team or industry that we don't - you can add it here, or just put comments about overall effort, strategy, and success.
You will be amazed and astounded with the results achived by putting something SO SIMPLE as a dashboard in place in 2014. We'd love your thoughts if you already have a tool like this or if you find this to be helpful.
Get at it, and good selling!
Weekly Sales Dashboard FREE DOWNLOAD click here

Lori Richardson is recognized as one of the "Top 25 Sales Influencers for 2013" and one of "20 Women to Watch in Sales Lead Management for 2013". Lori speaks, writes, trains, and consults with inside and outbound sellers in technology and services companies. Subscribe to the award-winning blog and the "Sales Ideas In A Minute" newsletter for sales strategies, tactics, and tips in selling. Increase Opportunities. Expand Your Pipeline. Close More Deals.
email lori@scoremoresales.com | View My LinkedIn Profile