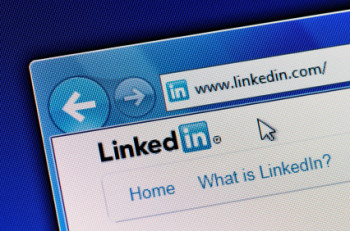 Are you one of those sales people or company leaders who has resisted LinkedIn but now you want to learn more? Do you have a profile but you have no strategy in place to leverage LinkedIn as one of the ways you build visibility and ultimately revenues? Every week I run into executives who are saying to me, "OK, I'm ready to put up my profile" or "I have a profile but don't really know what to do next".
The biggest reasons that you should be on LinkedIn now if you are in sales or in a company that sells products or services are:
Your LinkedIn profile acts like an "on-line" trade show booth – 365 days a year, 24 hours a day, 7 days a week.
You will be in the company of 260 million or more colleagues (with 84 million in the U.S. alone) – it's like the biggest networking party ever. There are over 3 million business pages. This is a professional community, intended for people to connect with people they know and trust. Like going to a trade show or Chamber of commerce meeting, it won't benefit you unless you interact in smart ways on an ongoing basis.
Your profile can serve as inbound marketing for you – in other words, the key words and phrases you use in your profile are all searchable. For free.
You will be able to see and participate in conversations that those in your targeted industries are sharing. It is a simple way to learn more about your target markets and about specific individuals in those markets. You could even grow visibility as an expert in those market niches – all depending on what your goals are.
Are you Ready for the 30 Day Challenge?
It is simple – make a time investment of 15 minutes a day, 4 days a week (more if you have the time) for the next 30 days. Consider it an experiment (that's how I first approached Twitter use). You will see as you dive in more that there are serious advantages to using LinkedIn - such as InMail, advanced searches, and daily reminders about your ever-growing network.
First of all, make sure you have created a strong LinkedIn profile
If you have a profile, make sure you've done the key steps to maximize it - professional headshot, strong headline, helpful, customer-focused summary, and your contact information are the basics.
This first step – creating or improving your profile is the foundation to success. Don't move on to the next steps until this is done. This is you on the web – make it good.
Now decide what days you can put 10-20 minutes into LinkedIn business building. Put this in your calendar so you don't forget and so that you honor the time – this is what Covey would call, "Quadrant 2 time" – relationship building and referral building time that is "important not urgent" - and really priceless.
In 15 minutes a day, four days a week, you can:
further improve your profile (because most sellers' profiles are not great)
join groups in the industries your customers and prospective buyers belong to
set up advanced searches
work to connect with at least 400-500 professionals (so you have more 2nd and 3rd degree connections)
review daily LinkedIn email that shows which of your connections has a birthday, a work anniversary, or trigger events / news happening. These are perfect opportunities to say hi, happy birthday, congratulations, or other note which keeps you top of mind.
Being visible online is like when, in outside sales, you drop by a client's location – or see them at a trade show. It is often not until suddenly the customer SEES you and remembers something they want to buy or want to tell you. Replicate this phenomenon through being socially visible. It works!!
If you struggle with any of these areas, contact us and we'll show you how.
There are a least a dozen good ebooks about how to leverage LinkedIn - for starters check out Jill Konrath and Ardath Albee's Cracking the LinkedIn Sales Code which gives examples of sellers who have benefited by leveraging LinkedIn as a business tool.
Other LinkedIn post to take a look at:

This post was written as part of the IBM for Midsize Business program, which provides midsize businesses with the tools, expertise and solutions they need to become engines of a smarter planet. I've been compensated to contribute to this program, but the opinions expressed in this post are my own and don't necessarily represent IBM's positions, strategies or opinions.

Lori Richardson is recognized as one of the "Top 25 Sales Influencers for 2013" and one of "20 Women to Watch in Sales Lead Management for 2013". Lori speaks, writes, trains, and consults with inside and outbound sellers in technology and services companies. Subscribe to the award-winning blog and the "Sales Ideas In A Minute" newsletter for sales strategies, tactics, and tips. Increase Opportunities. Expand Your Pipeline. Close More Deals.