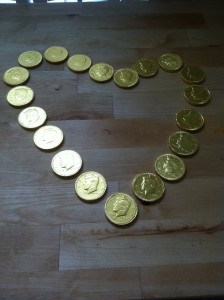 Today in most of the Western world, Valentine's Day is celebrated. Valentine's Day makes me think of passion, love, and romance. From a business standpoint, you can fall in love with the process, methodology, and tools you use to build sales - because your mastery will result in you growing sales. If you don't love it, or even like it - we highly recommend outsourcing some of it. Why? Because when you love what you do, it does not seem like work, it is simple, and it can become a strength. For those who think that follow up to prospective customers is a chore, I would ask if you think it is a chore to go online to your bank account and watch your money grow? It's all relative, isn't it? [Note: most people don't follow up enough. Just by focusing on this one aspect of selling - the actions of following up with prospective customers - when done properly - WILL grow revenues.]
Here are 5 ways to boost your revenues, so you can fall in love with this aspect of business building:
1) Be clear on the value you offer. Clarity - what it is that YOU do (your company does) that differentiates you and might cause someone to do business with you rather than someone else. You gotta know this!
2) Really know who your prospective customer is - who are they, and what makes them tick? This is called demographic and psychographic research. It helps you to find your prospective customer where they are, and it helps you find potential referral partners who also work with your niche.
3) Have a plan - 5, actually.... if you are a larger business, this is basic stuff. Every business needs a baseline business plan - the roadmap for your business growth and to keep employees' focus. You need a sales plan and method of growing revenues on an ongoing basis. Some companies integrate their marketing and social strategy into the sales plan. The financial plan is the backbone of business growth and success - don't just bring money in but grow profits while you are at it. Finally, have a plan for work / life "balance" - at least have the plan to shut business down out of your mind enough to participate with family, friends, and those you care about in a way that works for everyone involved.
4) Do a "Monday Morning Check-in" with your sales team. Even a solopreneur can team up with a like-minded business building entrepreneur to do a twice-weekly check in. Monday you declare what business activities you are working on, and on Friday you review what business building activities actually happened. Roll those activities that didn't get done into the following week. This will keep your focus on revenues on an ongoing basis.
5) Respond to the Market - Was your website last updated in 1999? Do you know that when people meet you or hear about you, the web is the first place they go to check you out? In years gone by it was the receptionist who made the first impression to your business - now it is your online profiles, articles, blogs, and other searchable activities. If you have an outdated presence, it gives the impression that you are slow to change - if you don't want this image, you can alter it. Better to have one great webpage that you direct people to than a bigger, poor website.
What is just ONE area of business you can think about updating? What area did you just update? Brochures? Sales collateral? Your Newsletter? Post your comments and suggestions below - it always helps others, and can help you to articulate it.
Lori Richardson is recognized as one of the Top 25 Sales Influencers for 2012 and speaks, writes, trains, and consults with inside and outbound sellers in technology and services companies. Follow the award-winning blog and subscribe to the Sales Ideas in a Minute newsletter for tips and strategies in selling.