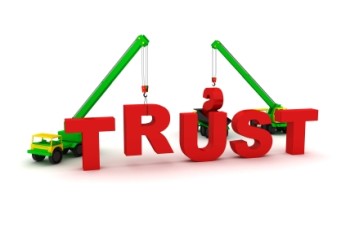 Do what you say, say what you do.
Your word is the one thing that follows you wherever you go. You build trust with others this way, and in business it is critical to be a person of your word.
This is a timely updated post of a previous one because I had a couple of mis-steps here due to company growth and not always capturing information into a safe container - right as it happens. I am therefore writing this as a reminder to everyone - including myself.
If you said you were going to call back Wednesday morning DO IT - a call Wednesday afternoon is not the same. IF you said you would a quote to them by Friday afternoon DO IT - emailing the quote Monday morning is not good enough. You start to build trust by showing that you do what you say. Read the post How to Build Trust in Selling and The Power of Trust in B2B Selling
Over time, I've found that something as simple as being a bit disorganized can cost big money - missed opportunities - even contracts.
Secondly, it can cost you relationships - prospective clients, existing clients, and business partners form an opinion of you when you do what you said and when you don't.
You need a safe "container" to keep everything. I use a notepad at my desk, a notebook with me, and the digital app, Evernote to be my tools. I try not to write anything down on the notepad because I can use Evernote which works on my smartphone, tablet, and laptop. Anything hand-written has to be scanned or re-entered, so am trying not to do that much anymore. That is double-entry.
But there IS a time when I do write by hand - if I am talking directly to someone in a one-on-one conversation. I won't become someone that types and nods as I'm trying to stay engaged with the person - I just won't do that. So I'll transcribe notes later. Also sometimes I'm on a call that I just can't type at the same time - so I'll jot the high points down, summarize, and turn digital.
Suggestions :
Go through your CRM - who have you not talked to lately?
Do you have a "next action" for every interaction?
Be sure to document and then FOLLOW UP
Look at apps like Evernote - try one out for 30 days and see if it is helpful for you
Post you might find of interest:
Post your ideas as just one new idea, or one that has been forgotten, can make a big difference in someone's business day.

Lori Richardson is recognized as one of the "Top 25 Sales Influencers for 2013" and one of "20 Women to Watch in Sales Lead Management for 2013". Lori speaks, writes, trains, and consults with inside and outbound sellers in technology and services companies. Subscribe to the award-winning blog and the "Sales Ideas In A Minute" newsletter for sales strategies, tactics, and tips in selling. Increase Opportunities. Expand Your Pipeline. Close More Deals.
email lori@scoremoresales.com | View My LinkedIn Profile