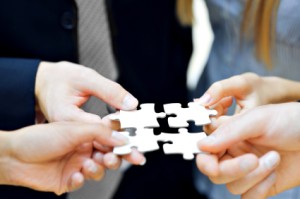 Anyone who attended the recent Microsoft Convergence 2013 conference may have noticed an exhibitor with a 3 letter acronym. The conference is the annual event for Microsoft Dynamics ERP and CRM. The exhibitor with a 3 letter acronym was none other than IBM.
So what was IBM doing at a Microsoft Dynamics event?
It seems that many folk don't know that IBM is a leading systems integrator for Microsoft Dynamics. I spoke with Bruno Bagala, who oversees the Mid-Market Demand Program at IBM, and learned that the word competitor has been replaced with collaborator between the two organizations.
"Many people don't realize that IBM is an alternative business partner for Microsoft Dynamics CRM and ERP due to our strong services expertise. It is surprising to many to know that we have been a 'Premier' provider since 1995," said Bagala.
That surprised me – I did not know that the two organizations have worked together on delivering strong customer solutions for that long. Bagala continued to tell me that IBM has invested in ERP and CRM for many years and built strong practices around them, which help customers get functionally integrated solutions.
Take business analytics, for example. Everyone talks about "big data" but how is it getting integrated at the customer level to the extent that it is part of the selling and servicing process? It has to be woven into the actual CRM and ERP applications and this is what IBM has been working on for years.
It's Not Just for the Fortune 500 Anymore
IBM is now working with mid-sized companies to help with these solutions – not just the huge corporations we tend to hear about. "We have the people now who understand what mid-market companies need. We've built the platform", Bagala told me. It used to be that when one thought of IBM they thought of complex and expensive. Not anymore.
Skeptical? Join me at the Smarter Commerce Global Summit 2013 on May 21-23 in Nashville where I'll be interviewing end-users who are running these solutions.
What is important today for mid-sized businesses is the ability to have a solution across all silos in the business – not just a CRM solution for sales and marketing. How do you get everything in place to make this happen? It starts with a company-wide strategy and business practices that work.
With the complications of mobile devices and employees bringing in their own tools, the simple connectivity of the past has been replaced by thoughtful, end-to-end solutions to help workers be productive through the cloud and wherever they are located.
Because of this, a lot of former suppliers have been left in the dust without comprehensive solutions to bring every device, tool, and app together in ways that increase productivity.
The questions come down to these:
Do you have a cohesive plan for connecting teams at your company together?

Is there a way to analyze all of your data to help make sound decisions on behalf of your customers and clients?
Have you noticed that other mid-sized businesses are working on these solutions now?
When will you get everyone together on the same page and create your foundation plan?
Are you willing to not make the time at the cost of losing business?

This post was written as part of the

IBM for Midsize Business

program, which provides midsize businesses with the tools, expertise and solutions they need to become engines of a smarter planet. I've been compensated to contribute to this program, but the opinions expressed in this post are my own and don't necessarily represent IBM's positions, strategies or opinions.

Lori Richardson is recognized as one of the "Top 25 Sales Influencers for 2012" and one of "20 Women to Watch in Sales Lead Management". Lori speaks, writes, trains, and consults with inside and outbound sellers in technology and services companies. Subscribe to the award-winning blog and the "Sales Ideas In A Minute" newsletter for sales strategies, tactics, and tips.