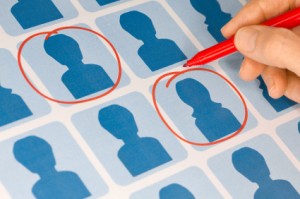 It was an "aha" moment for me this week at the Boston Chapter meeting of the AA-ISP (American Association of Inside Sales Professionals). The award-winning chapter had a May 1 educational program with nine experts presenting on four topics. In addition to some other very interesting topics, I sat in a session about finding great salespeople and hiring them.
Having been in sales for a number of years, I'm surprised that I haven't put a matrix together already that helps a sales professional find the best fit next job as possible, and which would help companies decipher who their perfect candidate would be.
Session presenters Mark Rodman, Principal of Xtra Effort Solutions and Jeanne Lambert, Director of Inside Sales at Ping Identity did just that. They called it a Candidate Alignment Chart. It was a big success, and I'm compelled to share a few of the items from it.
What typically happens is that a sales team is in need of a new sales rep.
"If you know of anyone, we are looking for a real superstar"
I've been told this dozens and dozens of times over the years and I didn't ask too many questions other than:
What type of sales

Inside or Outside
Quota responsibility
location
Additionally, I run into "great" sales candidates all the time, and never screen them in a way other than to tell a company, "Hey, I heard about a great sales rep you might want to interview"
Here are some of Mark and Jeanne's list to give you some food for thought if you are a candidate or sales leader:
Deal size & frequency - What sized deals is the sales rep comfortable and experienced at closing? Someone closing many $50K deals needs to understand how different it is to close $500K deals much less frequently. Would they be successful at that?
Start-up vs. Mature Co. - If you are a sales professional working at a start-up, you are going to probably have more autonomy than in a more mature company where the processes and routines are fixed. If you are more independent, you might have a hard time with the structure of a well-oiled sales process that is not looking for much input to improve. Which would be the right fit?
Team selling - Has the candidate been a part of a team or are they a lone wolf? What does the position require? One type of seller here is not going to morph into the other.
Solution Maturity - If they have sold a brand name product for some time, and move to a company with little brand recognition, how might they do? Do they have the skills to really focus on the value we offer and not the big brand name that they are used to?
I have not even mentioned quotas yet - how big of a quota is an individual used to having, and how successful were they at reaching it?
Ultimately, as I have mentioned previously, many workers in companies are un-engaged and looking for a better situation. This includes sellers. You need to find a company culture that fits for you. If you are wanting to get out there and work as many hours as it takes to prove yourself, you are looking for a different position than someone thinking about work-life balance. Location is critical because some sales people I know are commuting 3-4 hours every day. Really.
Next time someone mentions they know of the "perfect" candidate for your open sales position, or you as a seller decide to look at other career opportunities, know that there are at least 17 areas of considerations to be thinking about.

Lori Richardson is recognized as one of the "Top 25 Sales Influencers for 2012" and one of "20 Women to Watch in Sales Lead Management for 2012 and 2013". Lori speaks, writes, trains, and consults with inside and outbound sellers in technology and services companies. Subscribe to the award-winning blog and the "Sales Ideas In A Minute" newsletter for sales strategies, tactics, and tips in selling. Increase Opportunities. Expand Your Pipeline. Close More Deals.