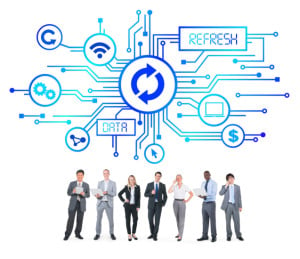 Imagine being around the same people and ideas every day. The people - your people - in your company, are wrapped up with their version of how the company should grow - how it should expand, and you are limited by the blinders everyone wears.
You really don't have to imagine - because it is a reality for most entrepreneurs growing companies. Many of the same ideas are rehashed daily within sales and customer service - and in accounting and operations.
Blurred Lines
The value chain of stakeholders within an organization is longer and more blurred than before. It is critical to get products to market in a timely manner - which currently means sooner than ever before launched.
If you have an open environment where ideas can be shared your company has a good chance of using collaboration for sales growth. Mid-market company leaders (and leaders of SMB's) need to create an atmosphere of continuous improvement. I might have a good idea, but my peer may have a way to make my idea really elegant.
Here are some collaboration strategies your organization can consider for growth:
Learn about Open Space Technology facilitation - this is the best system I have led or participated in for end-of-day results and in opening minds for creativity. Open Space Technology is a world-wide facilitation method created 20 years or so ago where everyone in the room has the same vote (executives have the same say as new individual contributors) and the room environment is set up for idea creation. The format seems lacking in structure but it actually is very structured. Take a look at the volunteer-supported website where a worldwide community shares ideas, links, and resources.
Become more focused on new ideas than being stuck on one specific one. Be open to criticism and ask for it to be constructive. It's always easy to say why something is not going to work - it is quite another to propose an alternative. The best leaders I ever worked for accepted my criticism as long as I had another idea that I offered up at the same time. Do you have an open door policy?
Employ disciplined collaboration - don't have a meeting for meeting's sake. It is great to get other's input but you need to be mindful of the bottom line. Over-collaborating is as bad as under-collaborating. In sales and business building - execution is where it is at. Get input, be open, then be sure to focus on getting out there and interacting. Read HBR's Getting Collaboration Right for more on this.
Competition is great, and is important in business to maintain your edge.
Collaboration is less used, and yet is as powerful because it encourages creativity. Creativity is a big advantage today in sales - the idea that you can talk with potential clients differently than a traditional sales approach wins business.
You need both.
Collaborate with cross-functional teams within the company.
Collaborate with vendors and business partners to differentiate and diversify.
Collaborate with your industry counterparts (some call this coopetition) where you work with a competitor for mutual gain. Think airline industry after 9/11.
What are 5 ways you can set the groundwork for more collaboration in your company?
How can this impact sales?
When will you start?

This post was written as part of the IBM for Midsize Business program, which provides midsize businesses with the tools, expertise and solutions they need to become engines of a smarter planet. I've been compensated to contribute to this program, but the opinions expressed in this post are my own and don't necessarily represent IBM's positions, strategies or opinions.

Lori Richardson is recognized on Forbes as one of the "Top 30 Social Sales Influencers" worldwide. Lori speaks, writes, trains, and consults with inside sales teams in mid-sized companies. Subscribe to the award-winning blog and the "Sales Ideas In A Minute" newsletter for sales strategies, tactics, and tips. Increase Opportunities. Expand Your Pipeline. Close More Deals.
email lori@scoremoresales.com | View My LinkedIn Profile | twitter |Visit us on google+