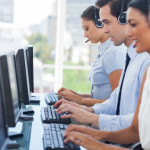 It is a pleasure to work in a field where research continues to grow and improve. Just a few years back, we were unsure how many sellers there are out there, let alone inside sales professionals. We want to know their habits, strengths, and whether the profession is growing. Everyone has their assumptions, but nothing trumps facts other than, well, data.
Recently a paper came out called Inside Sales Market Size 2013 – published by the InsideSales.com Research Division with Ben Warner who ran and challenged the data. The report was done in partnership with The Bridge Group, Inc, Kraig Kleeman, Software Advice, and Zoominfo,
It covers several interesting topics. The highlights first, then more detail:
Inside sales represents more than half of sales departments surveyed, and as an industry inside sales is growing faster than outside sales.
Small companies have a larger percentage of their sales departments devoted to inside sales than mid-size or enterprise companies.
There are 2.3 million inside sales reps in the United States in 2013.
42,400 new jobs are being created in inside sales each year.
74% of inside sales departments are generalists or semi-generalists, while 26% of inside sales departments are specialists or semi-specialists.
Calendaring and CRM tools are the most widely adopted, while training and calendaring tools have the highest percentage saying they plan to adopt them in the future.
Outside sales reps spend 24% of their time engaged in remote selling.
Of Interest:
The study showed that inside sales positions are more than half of all sales positions when removing retail sales (since we work with B2B companies, it makes sense for us here to use retail free statistics. Not sure I've seen many until now)
Not surprising to me, inside sales reps spend MORE time on selling activities than their outside sales counterparts, due to the travel spent fulfilling outside sales quotas. Even so, outside reps also spend about 24% of their selling time as "remote sellers".
Companies like IBM have had strong success with inside sales teams and the integration of social tools to help their sellers go where their customers and future buyers are. http://www.slideshare.net/JonathanDuarte/ibm-sales-up-400-using-social-selling-with-linkedin-and-twitter
Tools that make it Possible
Because of the growth and improvement of certain web tools, we can work better with buyers now remotely. Improvements in web conferencing, calendaring, and good, simple CRM tools allow for easy connection to dashboards and can inform management and outside sales peers for customer handoff.
The top tools this study showed to be most widely used were calendaring tools, conferencing tools (for webinars and live communication) , CRM, web reporting / dashboards, and social tools.
Inside Sales Structure
Another interesting topic is that there are multiple, defined Inside Sales roles that we're now beginning to measure. The survey shows that 60% of all Inside Sellers are Generalists, with 16% Specialists and the remainder somewhat of a blend. This means that some positions solely close business, other specialist positions singularly set an appointment then hand-off. The continued rise of success for these specialist roles in quota attainment may be due to more specific and limited skills needed along with a more simple sales process.
You can find the full report here (link) What do you think of the research?
Are you more compelled that an inside sales career is a legitimate, solid part of a sales career?
Would you leave outside sales for an inside position?
Post your comments – we'd love to hear your viewpoint.





This post was written as part of the

IBM for Midsize Business

program, which provides midsize businesses with the tools, expertise and solutions they need to become engines of a smarter planet. I've been compensated to contribute to this program, but the opinions expressed in this post are my own and don't necessarily represent IBM's positions, strategies or opinions.

Lori Richardson is recognized as one of the "Top 25 Sales Influencers for 2013" and one of "20 Women to Watch in Sales Lead Management for 2013". Lori speaks, writes, trains, and consults with inside and outbound sellers in technology and services companies. Subscribe to the award-winning blog and the "Sales Ideas In A Minute" newsletter for sales strategies, tactics, and tips. Increase Opportunities. Expand Your Pipeline. Close More Deals.