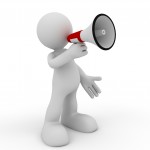 It is exciting to announce the first of a series of roundtable conversations on what a sales influencer is. This is important because:
1) What company or brand doesn't want to have a sales influencer on board?
2) Think of the possibilities within your company and beyond once this becomes part of your title
3) Any strategy that helps you differentiate from being just a vendor is a good thing, right?
Just like building relationships in person or through on-line social means, this does not happen overnight. How can you position yourself and what steps can you work toward to make this happen?
I'll be moderating a panel of Sales Influencers on Thursday, March 29 at Focus. Come listen to Jill Konrath, (Speaker and Top Selling Sales Author), Jonathan Farrington,(CEO/Chairman of JF Corporation), Greg Alexander (CEO of Sales Benchmark index) and I talk about what this is and how your B2B company can take actions to get more in the "thought leadership" space.
Jill, Jonathan, Greg and I were all named to a list (along with 21 others) of the Top 25 Sales Influencers for 2012 created by OpenView Labs. We will be having two more of these interactive roundtables on April 12 and May 2. Keep your eyes out for them.
Please join us, bring your questions, and share examples ahead of time. Focus has a great interactive way for you to participate during these conversations - looking forward to seeing you there.
Lori Richardson is recognized as one of the Top 25 Sales Influencers for 2012 and speaks, writes, trains, and consults with inside and outbound sellers in technology and services companies. Subscribe to the award-winning blog and the "Sales Ideas In A Minute" newsletter for tips and strategies in selling.