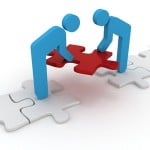 In my years in selling in the corporate world, I tended to run into a consistent issue - big clients would rarely, if ever, allow me (or the company I worked for) to be quoted publicly that they were our client. One time, I nearly lost a multi-million dollar contract with a very big airplane manufacturer because some low-level person in our company DID get quoted in a newspaper about the business relationship. That person did not understand that it was in our contract to not divulge information about our relationship.
I also knew little about the power of a white paper back then, or what one can do beyond simple endorsements and testimonials.
A lot has changed. Now there is community and conversations all around the topic of Customer Reference. In fact, there is an International Customer Reference Community Conference coming to Boston in May.
Event organizer Claudia Koenig says: "Customer references and customer advocacy are becoming about far more than just writing a case study. Buyers demand evidence of the success and suitability of products and services, and the best way for sellers to provide this is through the words of satisfied customers. However, as technology changes the way we communicate and organise our time, buyers want flexibility in when and how they access this evidence."
The Boston event on May 14-16 has attendees from all over the world, and speakers from Siemens, Intel, VMWare, EMC, Computer Associates, Saba and Cisco as well as a number of specialist reference program consultancies that will share ideas, best practices and knowledge about newest innovations. Read the press release.
There is no substitute for strong customer references - we know that people make purchasing decisions based on what others say, not what we say. What a great area of focus for this year, to work on growing your sales revenues.