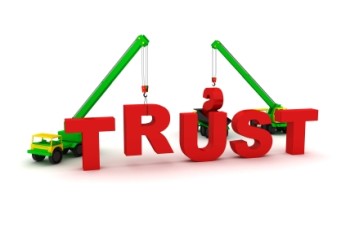 It takes time to build trust. That's why there is a buying cycle– why most people don't buy on the spot. Buyers and sellers are doing a dance where the buyer has gotten research and ideas online or through another trusted source - perhaps even narrowed their choices down, and now work to find what they believe is the best value for them.
If you are selling remotely - by phone, email and even video chat - you need to demonstrate to your potential buyer that your solution will fit their needs and that you have helped others solve their business issues as well. You do this with the words you choose, the pace you go at, the follow-up, the examples you give, and others in their industry you have helped.
The rule of thumb in sales research varies a bit, but generally has been that it takes 5-12 "touches" to make that impression for the customer to buy. Touches are the times you contact the buyer in some way — be it a phone call, proposal, video conference, or in person visits. You've stuck it out – built trust, and each contact reinforced your message and value.
That's why it is so important to leave voice mail messages periodically. Rather than calling and calling to reach someone, rarely leaving a message, I suggest building trust while leaving some amount of voice mail messages. You might call a potential buyer ten times over the course of a few months. Leave a voice mail at least every other time. If you call ten times in two weeks, I'd leave at least two or three voice mails. These message help you build your brand and are less than 25 seconds long. The main goal of a short voice mail is that you have something that may be of value to your potential buyer. You will call them back.
Now every time I say I'll do something and then do it, I'm building some level of trust. You don't know me yet, but I am someone of my word, since I told you I'd call you next week, then I did. Don't discount the importance of this in building rapport and a relationship.
Remember this most significant factor for long term customers and then target wisely. Start with 25 prospective companies – or 50 or 100 if you can consistently follow up with this number of contacts. If you are a services provider, target 25 to 50 potential alliance partners and consistently follow up with them – it works the same way, except that these contacts can refer you to many others. We'll talk more on that later.
Other posts here on trust:
Inside Sales Power Tip - Build Trust
The Power of Trust in B2B Selling
What do you think about the importance of trust?
How do you demonstrate it?

Lori Richardson is recognized as one of the "Top 25 Sales Influencers for 2013" and one of "20 Women to Watch in Sales Lead Management for 2013". Lori speaks, writes, trains, and consults with inside and outbound sellers in technology and services companies. Subscribe to the award-winning blog and the "Sales Ideas In A Minute" newsletter for sales strategies, tactics, and tips in selling. Increase Opportunities. Expand Your Pipeline. Close More Deals.
email lori@scoremoresales.com | View My LinkedIn Profile