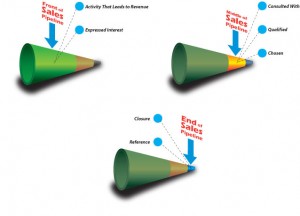 In conversations about managing sales opportunities you need to reference either a pipeline or a funnel to really understand that it takes many more potential deals than what will come to actual closure.
All of the things you are working on won't close – even if you think they will.
Deals get stalled, especially if they are complex sales that take more than one meeting to close. Even with the best of intentions and promise of a new customer, things slow down. They even go silent.
The power of using steps or phases to track your sales opportunities is huge for three reasons:
1. If you are working with a lot of prospective companies you'll forget what you set as a next action and in general, who needs what next to move the sales opportunity forward. A pipeline view can trigger what you need to do next.
2. Visually seeing at what phase of the pipeline each of your opportunities is can indicate when more revenue should be coming in. When you overlay all of your opportunities this way, you can easily tell what you need to do today – contact that qualified but not yet committed customer or do some rainmaking to generate more opportunities since the pipeline looks light.
3. A pipeline tool is needed for leadership to be able to have a snapshot view of what reps are working on at any given time.
Accurate, predictable pipelines are used in financing presentations for investment and for loans.
Assuming I've harped enough about the power of the pipeline, let's dive deeper and expand on the previous pipeline post.
We received numerous questions about offering more specifics and detail on what you need tools for, so using the same bullets as last time, we expand:
Tools to help find or attract prospects - Inbound marketing tools work to help you attract those searching the web for your offerings and then help you convert them to prospect status. Look for tools that are simple to put in place for your team, and that offer the reporting capabilities you need to understand success rates.
Databases of prospective contacts help with your outbound efforts. There has been a huge migration within B2B with LinkedIn as the "go-to" tool for smaller companies to do searches for contact names or roles within an organization. LinkedIn Tip #1: If you don't have an upgraded LinkedIn account, you can't access as much good stuff. Put an upgraded account into the budget. LinkedIn Tip #2: Make sure that your profile is up-to-date, that there is a LinkedIn page for your company, and updated profiles for each of your team members. Use keywords within your profile to help those searching for your products and services to find you, and join groups in LinkedIn that are in your clients' industries. Give value and post resources – people will be attracted and engage with you this way.
Identify trigger events in prospect companies – Business opportunities come about when there are changes in companies, geographic regions and in industries. We call these triggers – because they trigger an opportunity. Do you know the triggers within your niche? Tip: Next time you look at a prospect's website, go to the "news" or "press release" page and see what has happened recently. If they are public, download the latest annual report. Set alerts in Google for your customers' company name and industry niche – when news happens you'll get notified.
Gain information about them and what they need – Search services and search tools can help you to learn more about what is going on inside an organization. Are you aware of the research capabilities just in Twitter, for example? Even if your B2B company is not engaging on Twitter, a "real time" network, you need someone to search for and monitor specific words, terms, companies and phrases on a regular basis. This is guaranteed to grow your industry knowledge of what is being talked about.
Give prospects something of value – at every connection point with prospective customers, find ways to add value. In some cases it could be through well-thought out content, or specific industry tips to help them get a taste of your company and how you work. You could offer a trial if you are a SAAS company, for example. You could offer a phone consult if you are a services provider (something we put in place a while back to make us easier to connect with) In these economic times, anything you can do to help reduce risk for your prospective customer in getting to know you and in demonstrating how your products and services can solve their issues, is a great first or second step. Then, after they come to understand more about your solution, they will be more definite as to whether yours adds value or not – giving you a quick no or a yes, which is the best way to move forward.
Build and maintain a set of probable customers – this goes back to having a robust CRM system as well as a sales process and methodology in how you are nurturing and growing relationships. Know that a "set" of probable customers is a living, breathing group – it will change and morph over time. This is the science of selling – and the idea that people don't become buyers just because you desire to sell to them. Work to offer value and nurture these relationships. Find ways to reconnect with prospects, knowing they can move forward with you as qualified (meaning that you are a good fit to do business together according to both parties) and ultimately coming to closure. In a world of two-way communication, you don't "close" a customer – you work with them on a solution and together the opportunity comes to closure or not. Make sure you have enough prospects in your pipeline so that this is not a stressful or desperate (lack of prospects = pressure to want to bring business to closure).
Do you see selling as a science or an art? Post your comments and let's build the conversation.

This post was written as part of the IBM for Midsize Business program, which provides midsize businesses with the tools, expertise and solutions they need to become engines of a smarter planet.
Lori Richardson is recognized as one of the Top 25 Sales Influencers for 2012 and speaks, writes, trains, and consults with inside and outbound sellers in technology and services companies who are doing award-winning blog and the "Sales Ideas In A Minute" newsletter for tips and strategies in selling.