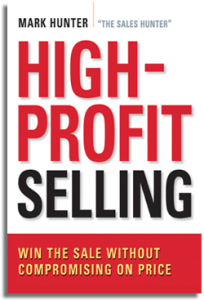 In a world with tens of thousands of sales books, is there room for one more? After reading Mark Hunter's new book, I say a loud "YES!". Here's why:
Mark is from the trenches. He has talked with thousands and thousands of sales leaders and sales people over the past 14 years on how to maximize profits and grow revenues. As a very generous blogger, he's shared many of these tips, strategies and ideas over time. Instead of scouring the web, now you can find a wide range of topics all relating to growing profit in your sales business in one place - from within High Profit Selling.
There are 15 chapters in the book. It begins with some real basics on profitability - and is worth reading just for that. What I like, though, are all the side topics that are a part of being profitable - Mark talks about things like listening more and talking less - something we'd all say, "of course" - but many sellers do not do this. It is a contributing factor in growing margin in your deals. Another example of the value of this book is when Mark lists out his 12x12 strategy for prospecting - it is a valuable takeaway from reading the book.
Don't wait - check it out and let us know what you think.
Lori Richardson is recognized as one of the Top 25 Sales Influencers for 2012 and speaks, writes, trains, and consults with inside and outbound sellers in technology and services companies. Subscribe to the award-winning blog and the "Sales Ideas In A Minute" newsletter for tips and strategies in selling.