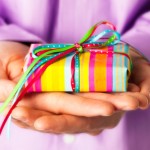 It's the time of year when you might be thinking of something for your favorite sales professional or sales leader. There are a number of reasons to give a tangible gift or a gift of time or energy. Whether this person is:
your colleague [cool, fun item]
your boss [professional, thoughtful]
your prospect [helpful, value-added]
your strategic partner [innovative, smart]
or even
your vendor [memorable]
Being thought of and sending something can build a bridge, show appreciation or even get a next action in a business relationship. It is important to give something that is appropriate to the relationship and that not create an awkwardness. Think of the difference between sending out a copy of your favorite business book to a number of business contacts as opposed to sending something that seems too personal, like perfume, cologne, or a gift card to your favorite restaurant. I've seen this happen – and what started out as a nice idea turned into a disaster.
Gift Recommendation Summary
We know you are busy, so we have our top 3 ideas first, because you need to get this figured out soon. You rarely can go wrong with any ONE of these, and if you did the trifecta, well - you could shine this holiday season:
THE GIFT OF AN INTRODUCTION (or two) - Who can you connect one of your clients, prospects, or partners to that would help them and their business? As with anything, it is how you go about it, the words you choose, and the intention that is important. You'll see more about this in a future post.
THE GIFT OF RECOGNITION - Many in sales and in business want to be recognized and appreciated for our efforts. How can you find a unique way to do that for that business connection on your list? Think of something different, like creating a video endorsement, or crafting an incredible testimonial for LinkedIn or other use.
THE GIFT OF TIME - Can you ease someone's time by helping them with a project, or offering the use of your intern for something they are working on? If they are on your team, rewarding with some special time off can really build good will.
Many companies have policies or restrictions on gifts. I had clients whose company had a $5 limit on gifts so we had to be very creative (see below). We did not go against the policy - that would not be smart.
Others in business totally seem to disregard this time of year as an opportunity and just tell people that they are too busy to do cards or that they don't do gifts.
I think you have a fantastic opportunity to shine as someone who is thoughtful and even creative or smart, depending on your choice of card and/or gift.
Last year we gave out a book about gratitude to our clients and some of our top strategic partners. While the book was about gratitude, quite the "EI" topic (emotional intelligence) – we were pleased with how well they were received by those we gave them to.
There is no doubt you may not have time or bandwidth to spend on figuring out who gets what and then actually ordering it to arrive ON TIME. [am I the only one who has started to write holiday cards and didn't finish them in time so shelved them till the next year?]
You are busy, but you want to make an impact. A holiday note, card, or gift is just what will fill the bill. Rather than listing lots of specific items, this is more of a general guideline with a few specifics as examples.
When you begin this card or gift-giving process, try this 3 step process:
Create one Master List for who gets cards, who gets small gifts, and who gets something else.
Go immediately to your CRM system and create a tag or field for "holiday2012card" and "holiday2012gift" as well as any other tag needed so someone can quickly create reports and mailing labels or addresses on envelopes to be efficient.
Find someone internally or outsourced who can handle as many aspects of this project so you can keep closing business before year end.
On outsourcing: Check out TaskRabbit, Fiverr, your favorite Virtual Assistant, or post on Craigslist to get assistance on this project. If you do think of it as a project, it will have a start, and end, and won't consume your mind.
Now for the actual gifts and cards to give:
There is no replacement for a handwritten message in a card – whether emailed or, as I still prefer, a mailed card. It is much easier to do emailed cards, but the impact a snail-mail, delivered card with a personal note written by hand is getting rarer and rarer by the day. So with the dwindling amount of mailed cards, you might choose to jump ship on it this year, or, stand out – the choice is yours.
An example of a nice insert for a physical card is a coffee card – put a message on saying, "Let's get together for a coffee or tea after the holidays" – and it helps to set a great next action for that stalled sales opportunity or for time to meet with a good potential business referrer. Choose the brand that is abundant in the region you are sending the card to.
One great virtual idea is a very small iTunes gift card because you're giving the gift of music, movies, apps, and more. Again, this fits nicely in a well-chosen holiday card.
Speaking of physical holiday cards – one of the quickest ways to get a custom card is to put your logo or simple design onto a photo card and get them printed at your local Costco – last time I did that they were ready the same or the next day. This is truly a procrastinator's dream, but if you have the time you can find many great resources online and locally.
Small food gift baskets can make a big impression with new and long-term clients. Make sure you get them ordered and delivered soon. Good last-minute gifts include sports event tickets and for the right techy sales pro, a one-month or 60 day subscription to a cloud-based tool which could help them sell more. See a future post for the top tools we'd give out.
Finally, you can't go wrong giving to an upstanding non-profit charity that is either based locally near your client, prospect, or partner OR to an international non-profit. One of our aerospace clients gave to an organization which helps kids learn about aviation, so it was niche appropriate and those that received that gift really "got" the connection.
Post your gift suggestions and business giving experiences as comments below – the top suggestion and the top story about business gifts you have given will each receive a very special gift card – just comment by Thursday, December 6th to have a chance at a prize.




This post was written as part of the

IBM for Midsize Business

program, which provides midsize businesses with the tools, expertise and solutions they need to become engines of a smarter planet.

Lori Richardson is recognized as one of the "Top 25 Sales Influencers for 2012" and one of "20 Women to Watch in Sales Lead Management". Lori speaks, writes, trains, and consults with inside and outbound sellers in technology and services companies. Subscribe to the award-winning blog and the "Sales Ideas In A Minute" newsletter for sales strategies, tactics, and tips.