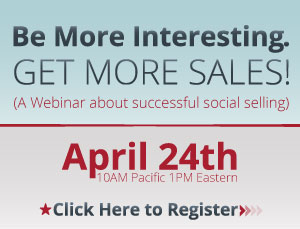 We are, as a business community, being BOMBARDED with sales tools. How many times has someone come to you at your company and said, "I just saw xx tool, we GOTTA get it".
Many times a quick decision will be made to bring in one of these tools, and sometimes a pattern begins to emerge where many quick decisions are being made to add tools with no bigger plan in place.
What is our end goal?
What are we trying to accomplish?
Once we have the tools, we still need to craft interesting and compelling content in the form of sales messages to our prospective customers and existing clients.
This is where we see a big issue. There is not enough of the right content, which is engaging to potential buyers at the right points during their buying process to gain their attention in this noisy business world.
The Solution
Join moderator Nancy Nardin of Smart Selling Tools for an hour-long, highly interactive webinar discussion about how to become more interesting to grow sales with me and my co-panelists Trish Bertuzzi of The Bridge Group, Inc. and Barb Giamanco of Social Centered Selling. We will tackle the "sales tools solve revenue issues" myth and show how a smart content strategy coupled with messaging that gains attention will allow you to stand out in the noise to be seen, heard, and considered when it comes to buyer's decisions.
We will share our top tips for engaging prospects the right way:
Learn how one sales leader discovered that her prospect liked the same music she did and what she did to capture his attention.
Find out how another sales leader connected her prospect to a speaking opportunity and what happened as a result.
Hear about how one of us grew business through messaging to CEOs about what she learned about them on social channels.
I promise this will be a fun, fast, interesting hour that will give you ideas you can put into place right away, and turn your "social selling" efforts into part of a cohesive plan that bridges marketing with sales.
This webinar is limited in size so share this link with your favorite sellers and marketers and join us on April 24th. We will take questions and comments live during the webinar and look forward to your contributions.
In the meantime, post your ideas on how to be more interesting with what you are messaging to buyers.
How are you getting their attention?
What works, and what doesn't work?

Lori Richardson is recognized as one of the "Top 25 Sales Influencers for 2012" and one of "20 Women to Watch in Sales Lead Management for 2012 and 2013". Lori speaks, writes, trains, and consults with inside and outbound sellers in technology and services companies. Subscribe to the award-winning blog and the "Sales Ideas In A Minute" newsletter for sales strategies, tactics, and tips in selling.