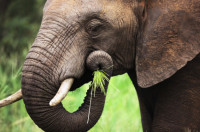 In the first two posts in this series we talked about gaining visibility to grow sales as well as putting a plan in place. Now how are you going to make this happen?
Through taking action. You will take big action, but it usually happens through many small steps.
What is the Best Way to Eat an Elephant?
US Army general Creighton Abrams famously said,
When eating an elephant, take one bite at a time.
Your "elephant", in this case, is all that is ahead of you. Haven't you had a situation where the work ahead of you seems so daunting and unachievable that it is difficult to see how it will ever get done?
If this is your new quota, or new list of contacts or achievements you must accomplish in your position, we'd just encourage you do to one step at a time, with forward motion going every day. If it is a new plan, or new territory - find the upside to it and see how you can make it work for you. Then, and only then, can you break it down into smaller pieces.
Once Insurmountable, Progress Becomes Noticeable
You have to dive in and make things happen with noticeable progress always seeming to lag behind. The funny thing is that it doesn't seem to matter how many times you've had seemingly insurmountable tasks – they still seem overwhelming even when you've had success getting other projects done. It's human nature, so don't dwell so much on how overwhelmed you feel – instead start thinking about how you can break the project down. Eventually you start to see real differences.
Example: Ridding Your Office of Paper in Favor of Digital Documents
Do you have thousands of documents that you or your company wants to convert digitally to be more organized in the coming months? That could be extremely overwhelming until you think about how you'll do it (what options) and then start with a bit of the whole project and delegate to get it done. The pros – being in a clear space so that you can focus on "net new" sales will far outweigh the chore of getting stacks of papers scanned and organized digitally. There are services that do it which you can get to pick the documents up at your door, or you can bring in a temp or a student to do this at your offices.
The point is that one step after the other, without stopping makes things happen.
You Cannot Improve What You Don't Measure
The science aspect of selling needs to be measured so that you can course correct and change as you move forward. Too many sellers are not aware of their sales conversion rate (how many qualified deals do I normally close?) or their prospecting conversion rates (how many decision makers do I need to talk to in order to set up a next meeting / demo / conversation)? This is critical information that once you know it will help you know what your paycheck will ultimately become. Is that important to you?
What projects are you going to commit to get done which will lead you to more sales in the coming year?
How can you tackle them one at a time?
What tolerations – little things – are slowing you down that you could put an hour of time into that will knock them out?
Download the summary tip sheet for these ideas (Part 3) here click here
Download the summary tip sheet from Part 1 of this series click here
Download the summary tip sheet from Part 2 of this series click here

This post was written as part of the IBM for Midsize Business program, which provides midsize businesses with the tools, expertise and solutions they need to become engines of a smarter planet. I've been compensated to contribute to this program, but the opinions expressed in this post are my own and don't necessarily represent IBM's positions, strategies or opinions.

Lori Richardson is recognized as one of the "Top 25 Sales Influencers for 2013" and one of "20 Women to Watch in Sales Lead Management for 2013". Lori speaks, writes, trains, and consults with inside and outbound sellers in technology and services companies. Subscribe to the award-winning blog and the "Sales Ideas In A Minute" newsletter for sales strategies, tactics, and tips. Increase Opportunities. Expand Your Pipeline. Close More Deals.