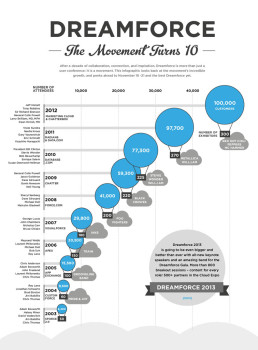 Dreamforce is a most awesome event for anyone in B2B sales. I have attended six times - this year will be my seventh. I was at the very first Dreamforce event in San Francisco when it used to be housed in a single building. It's been an annual event for ten years and now it takes over part of San Francisco - sprawling throughout the South of Market district. No doubt about it, Salesforce.com's annual party, Dreamforce, is a crazy, chaotic time.
If you just can't get away because of your work obligations, don't despair. No need for a case of FOMO. I know of lots of busy sales leaders and sellers who are working to close end of year business. San Francisco is also not convenient for all of us. If you are not on the west coast of the U.S. it can be a real haul to get there.
By using the ideas below you can get some great takeaways from the event AND not feel hungover or have sore feet from all the walking. The funny thing is that these ideas apply to those who ARE attending Dreamforce but just can't get everywhere.
#DF13 on Twitter - This is my go-to resource to see what is being shared before, during, and after Dreamforce. Follow @dreamforce and @salesforce as well. There are always big announcements at this event, and Twitter has been a wonderful voice of the attendees for the past few years.
Alerts - Hundreds of content creators are at Dreamforce each year - set alerts in whatever system you use to be notified when new articles or blogs are created during and after the event. It can be as simple as Google Alerts or through a social monitoring tool.
Watch Dreamforce Live - Learn how you can see Mark Benioff kick things off on Tuesday, Nov. 19 and this Salesforce post about what is being streamed live and how to see it.
See Past and Watch for Future Video - Matt Bertuzzi of The Bridge Group, Inc, and a Salesforce.com MVP reminded me of the many recorded videos from last year as well as sponsor videos and pre-event conversations. Go to the Dreamforce channel on YouTube.
Follow Sponsors - the top sponsors at DF13 are working to get every ounce of their hefty sponsorship investment so many create shows and promos and other interesting stuff which you can look through.
After the first day (and for many months afterward) go online and search for phrases like, "What I Learned at Dreamforce" or "Dreamforce Day 1" or other creative combination of words and you'll see what media and bloggers created there. It is a sure way to get the big news and hear about things that happened live from those viewing things first-hand.
If you have other ways that YOU pick up ideas from live events, post them as they are sure to help others.

Lori Richardson is recognized as one of the "Top 25 Sales Influencers for 2013" and one of "20 Women to Watch in Sales Lead Management for 2013". Lori speaks, writes, trains, and consults with inside and outbound sellers in technology and services companies. Subscribe to the award-winning blog and the "Sales Ideas In A Minute" newsletter for sales strategies, tactics, and tips in selling. Increase Opportunities. Expand Your Pipeline. Close More Deals.
email lori@scoremoresales.com | View My LinkedIn Profile