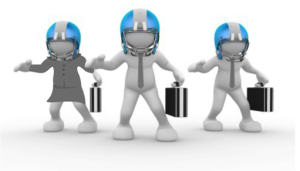 It seemed like Super Bowl Sunday would never arrive, remember? Now it has come and gone. What 5 sales prospecting lessons can we take away from the big event?
1) Inbound Gets Your Interest
It is critical to pique your buyer's curiosity in advance of an actual conversation when possible. It is no different with a big event – all the hype leading up to game day kept everyone talking. All that talking reminds us of the upcoming game.
Just imagine – two weeks ago the winning teams were determined. If there was no discussion, articles, videos, controversies – and then game day just happened two weeks later, it would be less exciting. Some people would not watch.
The NFL has a media circus happening to make sure you are engaged in the biggest event in America. Why do I say biggest? Well, more people bet on the Super Bowl than any other event in the U.S. The TV ratings are huge, but in addition there were thousands and thousands of pieces of content about the players, coaches, and fans. How can you do the same through your LinkedIn page or company blog?
2) Predictions are Just Predictions
Everyone can say what they want, but they cannot really predict the outcome. In sales prospecting, some of what seem to be the easiest opportunities never come to closure and a long shot opportunity ends up turning into a deal. We can use metrics and analytics to show trends but sales is still humans interacting with other humans so exact science does not happen. In the Super Bowl, everyone had an opinion. People were "SURE" of it, too. Not until the human players played, and the human coaches called plays that the result was on the field with the New England Patriots winning at the very end.
3) Talent is Not All You Need to Succeed
No one can argue that two great teams came out to play yesterday. The Seahawks were one yard away from winning – but being close doesn't win the game, just as in sales. You can have the best seller working with a potential buyer but without a fail-proof plan (and a Plan B) you may not end up with a new customer. How many deals do you know of that came down to the wire and ultimately didn't come to closure? In developing sales opportunities it takes nurturing, along with a great sales process, and tools, and talent, and listening, and adapting to gain new business. That's why being a professional seller is like being a craftsperson .
4) One Bad Move Can Cause a Lost Customer
Yep, Seahawks coach Pete Carroll has taken the loss as his fault. He called a play that just about everyone in football could not believe – it was not successfully executed and they lost. You can do the same thing developing sales opportunities. Have you ever made a call going over your contact person's head because they went dark? Then that person looped your contact back in and they decided not to work with you? Have you ever seen an overly aggressive approach to try to close a deal rather than learning more about your buyers and what they really want? That can be your demise. You can do EVERYTHING else right – and still not win.
5) Winning is an Evolution
To be a top Sales Development rep, you learn as you go. Winning and losing is not a black and white thing, because there is a lot of gray areas – how hard you work today, what you learn today, and who you interact with. Be a student of winning. Just as the Seahawks will go home and lick their wounds, your missed opportunity today will help you close a bigger opportunity next month. Learn from it.

Lori Richardson is recognized on Forbes as one of the "Top 30 Social Sales Influencers" worldwide. Lori speaks, writes, trains, and consults with inside sales teams in mid-sized companies. Subscribe to the award-winning blog and the "Sales Ideas In A Minute" newsletter for sales strategies, tactics, and tips in selling. Increase Opportunities. Expand Your Pipeline. Close More Deals.
email lori@scoremoresales.com | My LinkedIn Profile | twitter | Visit us on google+