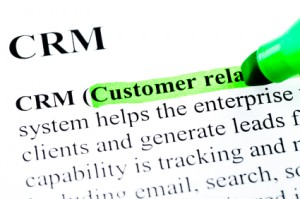 There are SMB and mid-market sales organizations who have not embraced a cloud-based, customer relationship management system, better known as CRM or SCRM. The "S" stands for social, and indicates that a CRM system has the capability to interact with and bring in social media content right into customer and prospect records.
It's safe to say that there are millions of these businesses out there – from very small SMBs to smaller mid-sized businesses. There are three main reasons many companies have held off with a company-wide, systematized consistent CRM for their organization:
Most of the systems have been extremely costly in the past. There is an acquisition cost as well as a customization and upkeep investment.
Many CRM tools are set up in a complicated way so a rep spends too much time learning them and then using them. In a company where the CRM has not been maximized and streamlined, even the leadership will advise reps to cut corners in adding data, which does not support building this consistent system in their company.
Most sales reps believe these are really not for them as much as they are for leadership.
So how can we increase revenues with CRM? We need to tackle these reasons and barriers to success.
COST
Back in the "early days" of CRM, I remember helping to sponsor a CRM project at the company I worked at that became a multi-million dollar mess – I nearly lost all credibility with my peers over time because the system needed highly paid consultants each time something had to be changed so we could better use it. I learned from that point on to really be careful about what I endorse.
Now there are very capable CRM products on the market that are extremely low cost – even free for micro businesses.
COMPLICATIONS
A tool is nothing but a tool without a process. Before you embark on adding CRM or improving upon your CRM, you need to work through the process of how leads, opportunities and then sales happen in your organization. One way to do this on your own is to take the last ten deals that closed and create a map of how they happened – step by step. If they are typical scenarios you will see some patterns emerge that will give you insight into your sales process. Do not assume you know all the steps. It turns out that most companies have several different processes for different types of business they do. Instead of trying to fit a square peg into a round hole, you can find tools that help you customize what you do and even add better process in some cases.
When little thought is put in front of investing in CRM strategy, nearly always there are complications and issues. Sometimes companies determine that they did get the wrong tool and this is after they've spent hours importing records, cleaning up their data and trying to get a number of reps to learn how to use it.
A TOOL JUST FOR SALES MANAGEMENT?
Salespeople tend to not embrace CRM when it is complicated, unwieldy, and slows them down. They think it is simply for management's benefit. So do these two things with your sales reps:
Show them the value of the one or two reports that will benefit them greatly.
Get them involved from the beginning so that you have their buy-in.
There is no reason a company should not get started on CRM if they are still using Excel spreadsheets and their accounting system or Outlook to track business. It is time for even micro businesses to evolve and just take the first step.
One tool that bills itself as having a "world famous free plan" is Insightly. They allow you to start using their tool, which does both CRM and project management, for free with no credit card needed. Their sweet spot is companies with 1-100 employees. When you need more than 3 users, you step up to just $29 a month for a robust system that will help you go from initial opportunity to managed sale. Because of its low barrier to entry, you could get one or two of your sales team started on Insightly and see how they like it. Gain their input and insights, tweak your process, and roll it out to others.
For bigger SMB's and mid market companies, SugarCRM offers very robust features and simple ways to get started, including a free trial. SugarCRM has been a CRM leader first with their open system and now announcing their newest version, Sugar 7, which has a new user interface that integrates social awareness into their CRM.
What are you waiting for? Millions of SMBs have been holding back, but the advent of more cost-effective and intuitive tools means fewer barriers and much less risk to getting started with CRM.

This post was written as part of the IBM for Midsize Business program, which provides midsize businesses with the tools, expertise and solutions they need to become engines of a smarter planet. I've been compensated to contribute to this program, but the opinions expressed in this post are my own and don't necessarily represent IBM's positions, strategies or opinions.

Lori Richardson is recognized as one of the "Top 25 Sales Influencers for 2012" and one of "20 Women to Watch in Sales Lead Management for 2012 and 2013". Lori speaks, writes, trains, and consults with inside and outbound sellers in technology and services companies. Subscribe to the award-winning blog and the "Sales Ideas In A Minute" newsletter for sales strategies, tactics, and tips. Increase Opportunities. Expand Your Pipeline. Close More Deals.